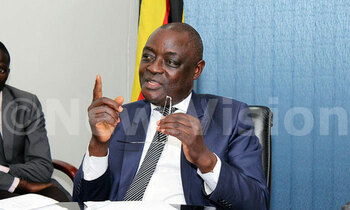 The Minister for Agriculture Animal Industry and Fisheries Vicent Sempijja has said Uganda lost 40% of its crops that include: peas, beans and ground nuts in the year 2016.
He also said, in the same year, the country lost 80% cereals in the first season harvests.
Quoting the food security analysis carried out by MAAIF in collaboration with other stakeholders in July 2016,Sempijja said: "The country may experience shortage of seeds for planting in the first season of the year 2017 saying that communities are likely to eat all the cereals that they have harvested,"
Speaking during the 10th Parliament in session on January 9, Sempijja said there was a decrease in food secure families in the country from 89% in December 2015 to 83% in July 2016 and an increase in food security stress from 10% to 16% during the same period.
"There was 20% decrease in livestock holdings due to increase in sale to purchase food and livestock death due to diseases," he stated.
He also said supply of cereals, matooke, banana, and cassava among other crops is low yet the demand in Rwanda, Democratic Republic of Congo, Burundi and Central African Republic among other countries is high.
"65% of the population living in Karamoja sub-region is experiencing food shortage meaning they access one or half meal a day," said Sempijja.
On government efforts to curb down food insecurity, the minister said the Government has provided food relief to the affected families as well as carrying out awareness campaigns by inter-ministerial teams.
He pointed at districts such as Kisoro, Kanungu, Rukungir and Mitooma as food secure districts countrywide.