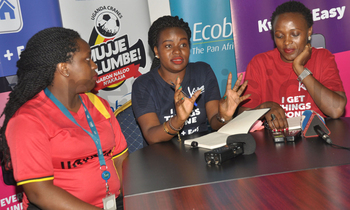 Donations forum Kwiksy has contributed sh2.5m to the Uganda Cranes FUFA and Ecobank 'Tulumbe Gabon Nalo Nakaja' fundraising campaign.
The money was delivered to the bank on Tuesday by Kwiksy marketing executive Sandra Kibirige and administrator Mercy Kyomugabe ahead of the Cranes first match against Ghana in Gabon.
"We are delighted to partner with Ecobank in this campaign. We are Ugandan just like the Cranes so it's a pleasure for us to be contributing to the Cranes," Kibirige said.
"We only encourage people to download the app on google play store from wherever they are to add money on the Kwiksy forum and contribute to the Cranes course. The world is going digital so we encourage people to use this free service by adding money from their bank accounts or mobile money to join this payment forum from across borders.
"We call on people in the diaspora and everywhere around the world to support our boys, as there is no extra cost involved," Kibirige stated.
Ecobank head of marketing Prim Kobusingye said the fundraising was started as a national wide to build the momentum and to ensure that our boys perform very well in Gabon and in future tournaments. Last year Ecobank signed a sh450m three-year partnership to support the team and thereafter launched the fundraising drive.
"We came up with this concept so that we support our boys with money. It a worthwhile campaign because you realize how the team was challenged financially up to the time of travel so they is need for continuous cash flow for the team, going forward," Kobusingye remarked.
Kennedy Bayo, Head, Public Sector Ecobank said the money collected from the campaign will be remitted anytime the team is need of funds because there was still a long way to go even beyond the 2017 campaign since their partnership is for three years.