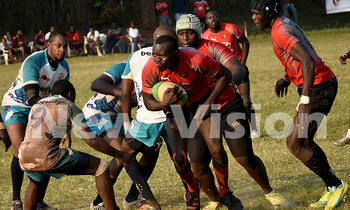 SATURDAY RESULTS

Rhinos 48 Makerere Impis 5

Black Pirates 55 Rams 5

Heathens 28 Gulu 0

Buffaloes 16 Kobs 23​

Despite trailing traditional rivals Heathens by 10 points, Kobs Rugby Club coach Edmond Tumusiime is confident his side can still defend the league title they won last year.

His club beat Buffaloes 23-16 on Saturday at Kyadondo Rugby Club.

Kobs, currently third on the log, are behind table Heathens (42 points) by 10 points and second-placed Pirates by four points.

"We came expecting a tough game and indeed we received it but the boys fought hard to get a win, which is good for us," said Tumusiime.

"I know Heathens are in the lead but it is too early to judge the winner because right from the beginning of the first round there have been a lot of twists and the same shall happen in the remaining games."

Joseph Aredo scored a try, two penalties and a conversion while Davis Kiwalabye and Ramathan Govule added a try each for Kobs in a tightly contested game that saw referee Collins Mulindwa aka Afande Kerekere sin-bin Brian Asaba (Kobs) and Buffaloes 'Philip Aita.

Solomon Okia managed a try, Kevin Keremundu a penalty and Fred Odongo a try and penalty for Buffaloes.

Meanwhile in the earlier game, Heathens got a 28-0 walkover against Gulu Elephants who didn't show up while the Pirates were 55-5 winners over Rams at Legends rugby Club.