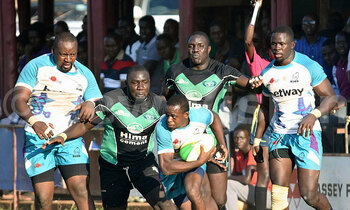 SATURDAY RESULTS

Heathens 33 Kobs 17

Gulu 6 Pirates 63

Impis 3 Mongers 25

Warriors 5 Buffaloes 25

Rams v Rhinos (postponed)

Leaders Heathens beat Kobs 33-17 at Kyadondo on Saturday to steer six points clear at the top.

In contract, defeat saw defending champions Kobs drop into third place on 28 points while Pirates, who thumped Gulu the same day, climbed to second with 31 points.

Kobs started well with a 17-6 lead after a try each by Ramathan Govule and Alhaji Manano and with two penalties and two conversions by Joseph Aredo.

But they failed to keep out sustained pressure from Heathens' Michael Wokorach who, together with a conversion by Aaron Ofoirwoth, helped reduce the deficit to 17-13 by half-time.

Heathens returned even stronger as Kobs suffered several turn-overs and penalties which Heathens kicker Ofoirwoth turned in to give the hosts a 19-17 lead.

Later Philip Wokorach and Kenyan international Vincent Mose added a try each and a conversion by Ofoirwoth to help Heathens to a 33-17 convincing victory.
Kobs' Dr Livingstone Lugya tries to stop Heathens' Cox Muhigwa (with the ball) on Saturday. (Credit: Johnson Were)

Kobs coach Edmond Tumusiime said after the game his charges lacked composure after restart, which showed in the form of poor ball handling, passing and player support.

"We should have won this game but we failed to use our first half opportunities to score more points and secondly we need to maintain composure in the entire 80minutes of the game," said Tumusiime.

"We suffered so many turn-overs and also gave away so many penalties yet their kicker was on form."

In the other games played on Saturday, Pirates whipped their hosts Gulu 63-6, Mongers defeated Impis 25-3 while Buffaloes eased past Warriors 25-5.

TABLE STANDINGS:

1. Heathens 37pts

2. Pirates 31

3. Kobs 28

4. Rhinos 21

Bottom Three

8. Rams 10pts

9. Impis 5

10. Gulu 3