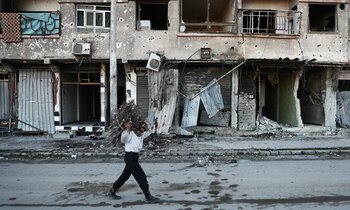 Turkey on Wednesday warned that planned Syrian peace talks co-sponsored by Russia were at risk, calling on the Damascus regime of President Bashar al-Assad to halt violations of a ceasefire.

Foreign Minister Mevlut Cavusoglu said Iran, the main backer of Assad along with Russia, must put pressure on allied Shiite militias to abide by the truce that is to form the basis for a ceasefire.

If the truce is properly observed, he said the peace talks would start on January 23 in Kazakhstan's capital Astana under the auspices of Turkey and Russia.

"If we do not stop the increasing violations, the Astana process could fail. After the ceasefire, we see violations," Cavusoglu told the state-run Anadolu news agency in an interview.

"When we look at who commits these violations, it is Hezbollah, in particular Shiite groups and the regime," he added, referring to the powerful Lebanese Shiite movement supporting Damascus.

Last month, a process sponsored by regime ally Russia and rebel backer Turkey saw the start of a truce which is meant to lead to negotiations in Astana this month.

But earlier this week, the process was already under threat after a dozen Syrian rebel factions suspended talks on negotiations accusing Assad of violating the four-day-old ceasefire.

Cavusoglu called on Iran to "put pressure on Shiite militias and the regime" to stop such violations.

The deal, brokered by Turkey and Russia, saw a ceasefire begin late December and the "main forces of the armed opposition" sign a document expressing a readiness to start peace talks.

While Moscow is Assad's most powerful ally, Turkey has repeatedly called for Assad to go. But as the countries continue their warming relationship, they have been working together closely on Syria.

Moscow and Ankara are guarantors of the talks and the ceasefire but Tehran, conspicuously, is not.

Cavusoglu also said Russian officials would be coming to Turkey on January 9 and 10 to discuss the Astana process.

More than 310,000 people have been killed and millions forced to flee their homes since the conflict broke out in March 2011.