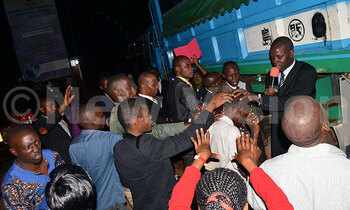 Christians have been asked to emulate President Museveni's winning formular by weeding out friends who slow down progress or obstruct them on the path to achieve their dreams.

"This year replace them with worthy ones," stressed Bishop Elijah Sebuchu.

"That is what Museveni did when he won over Owe Nakiwala Kiyingi, Olive Betty Kamya, Salaam Musumba, Cecilia Ogwal and Abdu Katuntu. Museveni is a strategist and statesman of the year in the eyes of many citizens. He shocked his critics and most especially the opposition."

Sebuchu challenged the congregation to let 2017 be a year of victories in; matrimony, prosperity and making the world a better place for all. This was said at the end of year prayer held at Kampala International Christian Center in Kyanja.

In the same tone, Pastor Jackson Kayira tipped the congregation to vaccinate themselves against false prophets from a forest of Churches mushrooming in their midst and program their brains to brave the odds in life.

"Take a close look at your network," urged Kayira.

"If all your five friends are paupers - there are chances you might become the sixth. This is why Jesus had twelve deciples but kept only three very close to him."
By midnight, the Christians who filled the Church to capacity were dancing as if they had developed rubbery limbs. They sang themselves hoarse. Others paced about the Church floor uttering prayers in tongues. Arms were raised towards the fireworks to supplicate God for a better future.

Fists were bunched up as the wind was punched hard for emphasis while believers. You could hear God being asked for; a spouse, good luck and more wealth.

Asked about what made the year memorable the congregation had mixed reactions.

"I loved seeing the president going for the debate and shaking hands with his serial rival Col. Kiiza Besigye," said Godlove Asimwe. "That election time was very scaring to us ordinary people. Thank God we sailed through."

But to Joseph Kintu 2016 was a year of mixed fortunes politically, socially and economically.

"The shilling as continued depreciating against the dollar," pointed out Kintu. "Sugar is becoming a luxury since it shot up from sh3000 to sh5000. I hope the cost of living drops in 2017."

A tour of the neighborhood was revelation of nightlife revelers making merry in popular pubs, eateries and discotheques. Cars were parked at ATMs as people queued for more cash to be withdrawn to party till sun down.

"I hope the South Sudan trade resumes in 2017," wished Kintu. "Sudan is a trade partner we need."