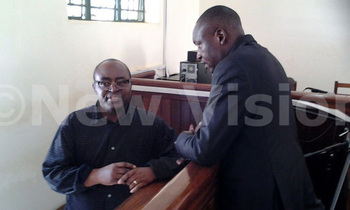 Joint prayers for the families of the people killed and arrested in the November bloody clashes in Kasese district were held in Kasese town.
The prayers were conducted by the Inter-Religious Council of Uganda (IRCU) Kasese branch at the district multipurpose hall.
The district IRCU chairperson, the Rev. Ezra Yongeza Mukonzo, said representatives of about 120 families attended the prayers.
"Widows, widowers, orphans and biological parents of the affected, including security officers killed in the skirmishes as well as all peace-loving Ugandans have been there to pray for their departed family members and peace," Mukonzo said.
Scores of people died and the Rwenzururu king, Charles Wesley Mumbere and over 160 of his subjects arrested in the incident.
Mumbere and the jailed suspects, including his former acting prime minister, Johnson Thembo Kitsumbire, are charged with about 40 counts including treason, murder, aggravated robbery, attempted murder and destruction of property.
Mumbere is remanded in Luzira prison and is slated to re-appear in court on January 12.
Mukonzo added that different party politicians, security personnel also attended the ecumenical prayers.
Mukonzo said the function was mainly aimed at consoling the bereaved families, preach peace and reconciliation.
He said the event was organized by the Rwenzori Fraternity Forum, a modest New Year hamper will be given to the affected families.
"The package will include mainly sugar, soap, cooking oil and a modest transport refund will be given to them," Mukonzo said.
But by press time, the list of the Rwenzururu Royal Guards and civilians killed in the clashes was still unavailable.
The Rwenzururu spokesperson, Clarence Bwambale, said his office was trying to have the list assembled.
"People fear to disclose the names of their dead relatives who were royal guards for fear of being followed up," a source in the institution said.