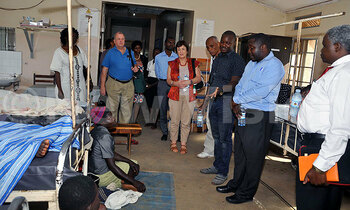 PIC: Dr David Aderu (third right), takes officials from Hamlin Fistula on a tour of Soroti Hospital. Second fromleft is the president of Hamlin Fistula USA Lewis Wall. (Credit: Francis Emorut)

Uganda is to partner with Hamlin Fistula USA (HFUSA) to treat fistula patients and train surgeons to handle complicated cases in the country.

On the continent, Ethiopia is the only other - and first - country to have partnered with HFUSA.

The collaboration was announced by Lewis Wall, the HFUSA president, board of directors who said he was delighted to bring in the expertise to help the two countries in Africa to treat women who are affected by fistula.

"Hamlin has a lot of technical and administrative expertise," he said.

"It would be fantastic to see neighbours partnering in this way to solve problems associated with fistula. I am pleased to be part of it," said Wall.

He made these remarks when he met medical personnel of Soroti regional hospital, Kumi hospital and officials from the association after touring the facility.

Together with his team, Wall was taken around the facility by Dr. David Aderu, an obstetrician and gynaecology, who showed them the congested maternity ward and the old operation theatre with inadequate equipment.
The Hamlim Fistula officials visited Soroti Hospital in the eastern part of Uganda. (Credit: Francis Emorut)

Wall was accompanied by the chief executive officer of Hamlin Fistula Ethiopia, Tesfaye Yacob and medical director Dr. Fekade Ayenachew from Ethiopia.

Dr. Fred Kirya, a senior surgeon and consultant at Soroti referral hospital, said 42 surgeons are available for further training especially in complicated fistula cases.

He told the visiting team that setting up a hospital that would become a centre of excellence in handling specialised cases of fistula is critical.

'A step forward'

Fistula is a hole in the birth canal and rectum arising majorly from prolonged labour.

Women with fistula are unable to control urine or stool, leading to other health complications. It is estimated that between 140,000 and 200,000 Ugandan women in the reproductive age group (14-49 years) suffer from the condition.

Dr. Kirya said the hospital would also offer maternal and child healthcare.

On the new partnership, he said it "will strengthen our functionality and that is our dream".

"The hospital will not only offer care for women but for their children. The collaboration with you who are experts will go a step forward," he added.
Dr Aderu (far left) took the officials around the maternity ward where expectant mothers were waiting to be attended to. (Credit: Francis Emorut)

The collaboration is an initiative of The Association for Rehabilitation and Reintegration of Women for Development (TERREWODE) with partnership with Soroti regional hospital with the backing of the Ugandan health ministry.

The founder of the association, Alice Emasu Seruyange, told the officials from Hamlin that in terms of technology Uganda is limited but that with the new partnership, the country is looking forward to advancing technological skills.

"It would be able to impact on fistula campaign globally through our participation in the area of care," she said.

Dr. Denis Oloya, the medical director of Kumi Hospital, said the partnership will build capacity of the medical professionals to provide quality healthcare.

So when will the health facility be built? Discussions are going on.

The organization is supported by eight dedicated funding partners around the world in the UK, Sweden, the Netherlands, Germany, Australia, USA, New Zealand and Japan.

Donors also include World Vision, Ethiopiaid, Usaid, Ausaid, Women's Hope International, Johnson and Johnson, Direct Relief, Siroptimists International, Rotary and many private individuals and friends.