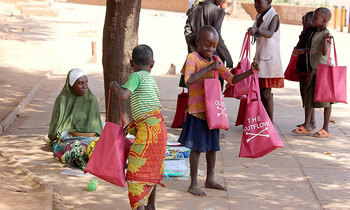 Despite the hard economic times, many families still managed to get together to celebrate Christmas Day.

But many others - especially those on the streets - only stopped at wishful thinking. For the street children and adult beggars, every day of life is a struggle filled with uncertainty and desperation.

And it's understandable why their faces have frowns.

So how better than to inspire an opposite curve on those facial expressions - a smile! That's exactly what a group called The Outflow, a non-profit, set out to do this festive season.
In an initiative dubbed 'Christmas on the streets', they made their way through different parts of the city, handing destitute people on the streets bags of cooked food and drinks. And in their wake: rare smiles!

"We feel that sharing with these people the little we have can make their Christmas," said Samuel Ssemakula, one of the organizers.

Their plan is to do this every year.

"God should bless you for such wonderful hearts because some of us never had anything to eat today," said Amina Nakawunde, a disabled street beggar, who sat with her child.
There was a rare air of excitement as kids, who normally walk from car to car in traffic jam begging for money, received a piece of delight from the group.

The Outflow team moved to areas like City Square, Entebbe Road distributing eats and drinks to the needy.