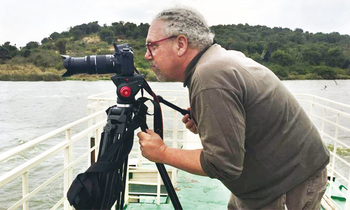 David Steiner, an American filmmaker who was killed in a motor accident on the Iganga-Bugiri highway, during one of his earlier filming expeditions. Courtesy photo

An American award-winning filmmaker based in Chicago, US on Monday died in a car crash in Iganga, eastern Uganda, according to the Police.

According to a source at Hotel Africana, a city hotel where David Steiner, 51, had checked in together with some students from the US, the group was travelling to Mbale district when the accident occurred.

New Vision has learnt that the accident happened near the Iganga Hospital gate on the Jinja — Iganga - Tororo highway. But circumstances under which the accident happened are still unclear.

What happened?

The group was travelling in a mini bus when it collided head-on with a lorry, sending the minibus into a ditch, according to reports.

"I was told he tried to jump out through the window when he saw the lorry heading in their direction," the source at Hotel Africana, who did not reveal her identity, said.

American media reports said Steiner had travelled with students from Barbara A. Sizemore Academy in Englewood, in the US after working with them on a documentary about their school.

The group was also in Uganda for the Nile Diaspora International Film Festival to screen their documentary.

A video of the aftermath of the crash, posted on YouTube by ABC eyewitness news, an international news agency, revealed that the group was travelling in a Hotel Africana minibus.

According to the source at the hotel, the rest of the team had checked out and flown back to the States.

When contacted over the incident, Nasib Nditta, the Iganga divisional Police commander, declined to reveal any information on the matter and referred New Vision to Police spokesperson Andrew Felix Kaweesi.

Kaweesi, however, said he was still gathering information.

According to media reports, Steiner was travelling with also with his son. Two eighth grade students and two other adults suffered non-life threatening injuries, according to media reports.

"I saw some posts from Uganda that instantly turned my blood cold," said

Paul Christopher Greene, a filmmaker and friend of Steiner.

He added: "David was incredibly passionate about this project. It was his life." Background Steiner worked with Terrance Dantzler and Hayah Rasul on Saving Barbara Sizemore, an award-winning Indie documentary about the successful quest by students to keep Barbara Sizemore Academy open after Chicago Public Schools voted to close it in 2015. The group left for the trip last week. They had hoped to open even more eyes overseas and were set to work on another documentary on Sudanese refugee children.

"They were also going to be engaged in a second documentary where he was having them meet with Sudanese refugee children,"

Dr. Carol Lee, co-founder of Betty Shabazz International Charter Schools, was quoted as saying.

Sarah Giroux, a Chicago based cinematographer on the trip with the group, posted a message on Facebook saying their van was knocked into a ditch and as the group waited for help, their luggage and money was stolen and some passports taken as well.

Condolence messages Steiner's Facebook page was filled with photos and messages about the trip and the horrors his friends and documentary subjects had endured, updates he made until hours before his death.

The deceased is survived by three children.

Steiner's fiancée Diane Silverberg who released a statement after the fateful incident said: "David died as he lived selflessly bringing joy to others, no matter the distance or complexity. In one of his last texts to me, he remarked that the joy they were bringing to the Sudanese refugees and to the children from Englewood who accompanied him had made all the challenges of the trip worthwhile."

The accident comes at a time when the festive season has witnessed a number of accidents according to police statements.