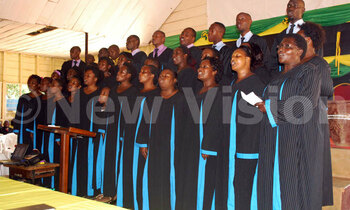 SDA Church Luzira choir singing during the divine service. Photos by Lawrence Mulondo
Lack of trust between a married man and his wife has led to marriage break up, the Bishop of the Seventh Day Adventist Church in Buganda region, Samuel Kajoba has said.
"Married people are failing to cope with each other. When this happens, it yields into mistrust and disharmony. A married couple should trust each. Should be united for the good of their family," Kajoba.
Kajoba made the remarks while delivering a sermon at SDA Church Luzira, Kampala on Saturday.
Bishop Samuel Kajoba
Kajoba cautioned the faithful against what he termed as 'spiritual laziness,' adding that as they wait for the second coming of Jesus Christ, they should live a Christ-like life.
"Read the bible, pray, repent, be united as Christ is united with His Father and allow the Holy Spirit to guide your steps and thoughts," he said.
In the same service, SDA Church Luzira was reunited to the SDA Luzira district.