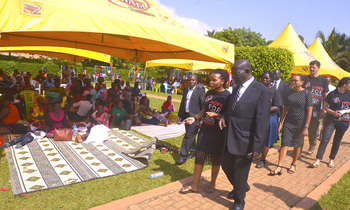 Vice President Edward Kiwanuka Ssekandi has expressed concern over the increasing number of abandoned and neglected children living with disabilities.

Speaking during the end of year party for Mukisa Foundation and children rehabilitation home at Lungujja gardens in Rubaga on Friday, Ssekandi said that Africans need to empower their citizens living with disabilities saying once empowered with education, they will contribute to the social economic progress of their countries and self -sustenance.

"There are PHD holders in the world living with disabilities and are making very good lecturers in world universities, had their parents neglected them such talents and skills would have been put to waste," Ssekandi said

The Vice President hailed the proprietors of Mukisa Foundation for emphasizing re-integration of children got from the streets back into their families or kin which has enabled them to resettle and mend feuds haboured by the children.

Ssekandi further thanked Mukisa Foundation for the spirited resolve to offer selfless help to then youth amidst heavy financial constraints that has seen them grow from 80 children to the current 1800 children in the home.

The proprietor of Mukisa Foundation and Children Home, Dr. Florence Namaganda appreciated Government support, which she said shows a growing partnership with her NGO in addressing challenges facing children with disabilities.

She also thanked funders from Germany and special needs teachers who have also mobilized funding from Germany since its establishment in 2006.

Alexander Buecker, one of the directors and funder from Germany, said that the centre has provides comprehensive support for families who have special needs and looks at individual needs for all children as well as aiming at creating strong family units which will facilitate the special needs children with disabilities.