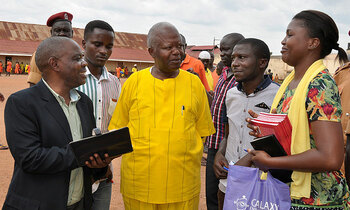 PIC: Here, Cheeye interacts with journalists. (Credit: Uganda Prisons Service)

Next year in February Teddy Sseezi Cheeye will be released from Luzira prison after six years in jail for embezzling Global Fund money meant for HIV/AIDS.

In 2009, Justice John Bosco Katutsi, the former head of the Anti-Corruption Court, convicted Cheeye for embezzling sh120m of the Global Fund and gave him a 10-year jail sentence.

Cheeye, the former head of economic monitoring at the Internal Security Organisation (ISO), was also ordered to refund sh110m of the sh120m he embezzled.

He appealed in 2010, but the Supreme Court dismissed the case.

Although he was sentenced to 10 years, his jail term was reduced to six years for good conduct.

Recently a Vision Group team caught up with him at Luzira Upper Prison where he expressed his delight about his impending release.

"I'm walking my last lap, in less than three months I will be out of here," Cheeye said.

Wearing a yellow stripped shirt and shorts, Cheeye ushered the team to his room which has a mini library, which he said has kept him going.

"I read a lot. I've read the Bible from the first page to the last page twice, it has inspired me and kept my spirit strong," Cheeye said.
Cheeye hosts visitors in his sleeping room. (Credit: Uganda Prisons Service)

Cheeye says being in prison has taught him many things.

"I'm now a Born-again Christian, but after here I will continue writing about the economy," Cheeye said.

In 2009, Cheeye had told the Court of Appeal that justice Katutsi was wrong to say he received the sh120m because he relied on uncorroborated evidence of one of the witnesses, whom he described as an accomplice and a liar.

He then denied forging the accounts and said the judgement was too harsh.

While sentencing him, Court said the sentence was lenient given the graveness of his offence.

Cheeye had obtained Global Fund money through his non-government organisation, the Uganda Centre for Accountability, for purportedly monitoring AIDS activities in Rakai, Kabale, Mbarara and Ntungamo districts.

The money was deposited on a bank account where Cheeye was sole signatory. He withdrew it in 19 days although he did not monitor any AIDS activities.
Veteran journalist Joachim Buwembo poses for a photo with Cheeye. (Credit: Uganda Prisons Service)

Court of appeal judges, Amos Twinomujuni, Steven Kavuma and Augustine Nshimye Sebuturo, said although Cheeye was a first-time offender, he was a senior public officer responsible for fighting corruption and should have been the last person to engage in the criminal activities he was convicted of.

"Corruption has reached a point where it has become acceptable in society. Corruption is like a cancer, we should have treated it earlier. Although it is not easy, corruption can still be fought," Cheeye said.

Before becoming the director of Economic monitoring in ISO, Cheeye was publisher and editor of the Uganda Confidential which he founded in 1990 to report exclusively about corruption.

Although he exposed many corrupt individuals in his publications, how he ended up a victim might have surprised many.

He has however promised to revive the publication after his release.