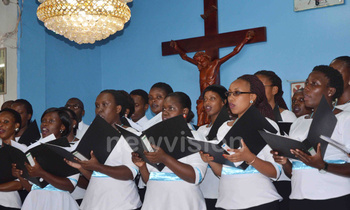 Lay apostolate movements have an important role to play in the evangelization mission of the Catholic Church- by reaching out to areas and people that the clergy may not easily access, the Kampala archdiocesan Chancellor, Fr. Joseph Ssebunya has said.

Speaking on Sunday at a Christmas carol concert by St. Paul's Family choir at St. Matia Mulumba church in Old Kampala, Fr. Ssebunya called upon lay apostolate movements to embrace their role in evangelisation.

"You are best placed to go to the deepest corners of the country and that is an important calling which you should take seriously," Ssebunya said.

In performing this duty, he reminded Catholics to uphold the values of the Catholic Church and always seek to support and compliment and not contradict the church tradition.
He commended St. Paul's family, under which the choir, comprising mostly young professionals-operates for using music and reciting of the rosary to evangelise.

Beautiful melodies

The choir presented Western and indigenous traditional carols categorized under the three Christmas liturgical seasons of Advent, the Nativity and Epiphany. The theme of the concert was "And the Glory of the Lord shall be revealed" (Isaiah 40:5) reflecting a number of compositions from German -British baroque composer George Friedrich Handel.

A self-confessed lover of sacred music, Fr. Ssebunya uploaded the beautiful melodies from the choir and encouraged them to continue evangelising through music and prayer.

The chairperson of the Family, Moses Kyaligonza said singing is just one of a number of activities that St. Paul's family- founded in 1983 by Jaires Jolly Nalongo Ndema undertakes in its mission to popularize praying the rosary and reading the letters of St. Paul. Others include taking care of the poor and the elderly.
The founder of the family donated a CD of the choir's Marian carols to Fr. Ssebunya.

The concert was hosted by Fr. Dennis Ssebugwaawo, the parish priest of St. Matia Mulumba parish in Old Kampala, several priests and people from all walks of life.

St. Paul's family choir is one of the popular church choirs in Kampala archdiocese and has been performing Christmas, Marian and Easter carols for many years.