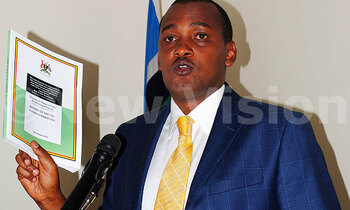 Information and Communication Technology minister Frank Tumwebaze. Photo by Mary Kansiime

Uganda Broadcasting Corporation (UBC) requires restructure and change of management, a committee set up to review its operations has recommended.
"Amend the UBC Act to give the corporation more independence and increase Government funding," the committee adds.
However, the committee said it would be counterproductive to pump money into UBC before addressing systemic problems the corporation is grappling with.
Information and Communication Technology minister, Frank Tumwebaze, received a report from a committee set up in August this year.
The minister received the report from renowned journalism trainer Dr. Peter Mwesige who chaired the committee at the ICT ministry in Kampala on Tuesday.
Minister Tumwebaze said Government will develop a white paper on UBC and discuss modalities of turning around the corporation based on the committee recommendations.