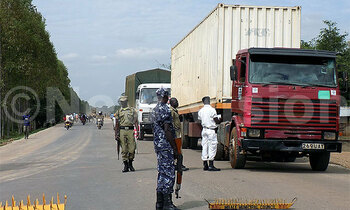 Local leaders and road users alike in eastern region have hailed the police over the Fika Salama operation, saying that road fatalities have reduced in the festive season.

The operation involves police spot checks on various parts of highways to ensure road safety.

As a result, overspeeding - one of the leading causes of road carnage - has since reduced.

"Let me take this chance to thank the police institution under the leadership of Gen. Kale Kayihura for the initiative," said Budaka Woman MP Pamela Kamugo.

"This operation has seen reckless drivers on our roads get disciplined.

"We have heard of fewer accidents on highways during this festive season compared to the past years," she added.

One traveler on the Mbale-Tirinyi route shared similar sentiments.

"We know that too many roadblocks along the highway are an inconvenience to the drivers and us travelers but they have done a good job in reducing fatal accidents," said Joan Apio.

"Drivers' discipline has also changed because they now know when, how and where to overtake. They no longer drive with the mindset of only amassing money during the festive season."

John Bosco Wambede, a businessman in Mbale town, said that during previous festive seasons, it would take buses less than three hours to reach Kampala from Mbale but that now, it takes them nearly five hours to do the same trip.

However, he said some traffic police personnel are taking advantage of the operation to extort money from drivers, saying it is "very common along the Kampala-Arua highway".

Meanwhile, Mbale district police commander Peter Mugabi told New Vision that traffic police officers are deployed day and night and that drivers who try to dodge the roadblocks will still be netted

He said that apart from the accident that occurred on Mile Six along Mbale-Tororo highway that claimed the lives of 10 people, they have not recorded any other fatal accident in the past few weeks since the Fika Salama operation was launched.