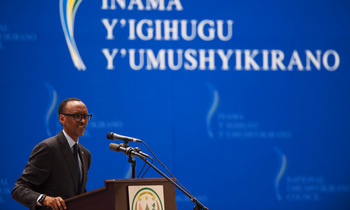 President Paul Kagame of Rwanda on Friday joined the ongoing criticism within Africa against the judicial system of the International Criminal Court (ICC) saying the Hague-based court is a mere political tool disguised in justice.

"Rwanda did not become signatory to ICC because this was not justice. It was politics disguised as international justice," he said.

Kagame was addressing journalists at a press conference in Kigali shortly after concluding the two-day national dialogue—dubbed Umushyikirano.

The president of Rwanda also questioned why the legal arm of the ICC doesn't apply to Western leaders, who he said, have committed crimes against Africa?

"When they commit crimes, and they have committed many against Africa, why doesn't it apply to them? When Rwanda speaks about this, we are told, we should not be speaking about anything that paints some people in a dark light," he said, describing himself as not anti-west or anti-east but a leader who is against serving someone else's interests against his.

Kagame's remarks have come at a time when several African leaders are currently casting a critical eye on the ICC, with some countries such as Burundi and South Africa, who are signatories to the Rome Statute that gave birth to the controversy international court, are preparing paper work to pull out.

Nearly 2000 citizens gathered at the Kigali Convention Center for the 14th edition of the national dialogue to assess the progress of the country and also question leaders, including Kagame about the achievements in the last one year. Charting a way forward on the country's journey is the other point of discussion that shaped the discussions.

Some citizens such as Isaac Nzabaninde asked Kagame and his Government to modernize agriculture, especially in the rural areas of Rwanda, as a mechanism of spurring development and wealth creation among citizens.

On the other hand, John Kijuri, asked Government officials to enable all Rwandans in the diaspora to cast their votes during the August 2017 elections.