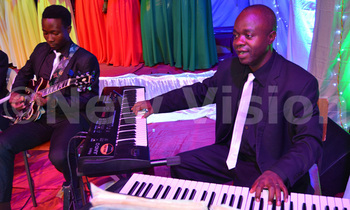 Organist Ronnie Nsereko must be smiling broadly. His Christmas concert, which took place at the National Theatre on Wednesday, was highly attended.

The auditorium and its gallery were both filled up with fans, who had to pay sh20,000 for the show.

The concert featured three ensembles which included Nsereko's Quintet Band, the Cherubim Choir and the Evangelical Choir from Christ the King Church.

One unique aspect of the choir was the collection of talents. The singers and accompanists were highly talented.

The choirs also hooked the different generations of their fans by fusing their music. For example, musical pieces like Handel's For unto us a child is born (from Messiah Part 1) were sung with added rhythms, and instruments like the jazz-drums and guitars.

The choirs also sang local Christmas songs, accompanying them with the western instruments.

The show also featured Christmas songs by secular artistes, which were sung with great skill by the soloists.

Such songs included Mariah Carey's All I need for Christmas is you, and Philly Bongoley Lutaaya's Mbagaliza Kulisimansi ey'essanyu. It was thus not surprising that the fans kept gigging throughout the three-hour concert.

The Executive Director of Rubaga Hospital, Dr. Andrew Ssekitooleko, who was the chief guest, was so impressed with the performance.

He suggested that the event becomes annual. Ssekitooleko later donated sh1m to the choirs.