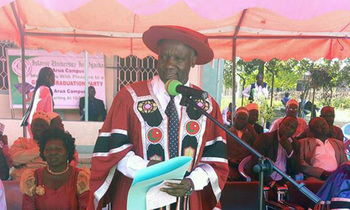 A total of 103 students graduated with diploma, bachelors, and master's degrees at Islamic University in Uganda (IUIU), Arua branch.

The campus was packed with families, friends, continuing students and well-wishers who turned up to witness their loved ones graduate in various discipline on December 10, 2016.

The graduation ceremony was graced by IUIU Vice Rector Islamic University who is also in charge of academics Prof. Ismail Simbwa Gyagendwa.

Speaking at the function, Gyagendwa congratulated the graduates for completing their courses and appealed to them to desist from corrupt tendencies.

He stressed that the IUIU is multidenominational institution which is not only for the Muslims but it's a university to develop the region.

"We have done a good job of educating but we have not done good job of publicizing what we do and it is unfortunate that people still perceive IUIU as a university for Muslims," he said.

Saidi Omar Dramani, the current University director Arua branch, said the name Islamic doesn't mean that the university only accommodates Muslims.