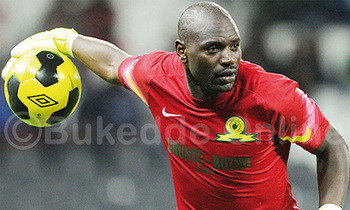 Footballer Denis Onyango. You could vote for any personality.
New Vision is giving its audience an opportunity to choose their best personalities of 2016.

The categories, mainly from the social fields, include best athlete, radio presenter, story of the year and best footballer.

The competition is in line with the leading daily's practice of involving its audiences in one of the most interactive features of the year.

Entries are now open for the public to choose their person and event of the year.

To participate, readers will have to fill out a coupon in New Vision sports pages, cut it out, and return it to Vision Group head offices on First Street Industrial Area, Kampala or any upcountry New Vision office by December 15, 2016.

Readers will choose among various categories, including best local song, best foreign song, best football game, best sportsman and sports woman.

John Eremu, the Features Editor, noted that this is one of the best ways to reward the best persons in society.

"We believe that this recognition is so important and cannot be rewarded in monetary terms. It is all about the society," Eremu said.

He revealed that the competition will be a chance for Ugandans to celebrate the personalities who have made invaluable contributions to our society over the past year.

"We have many big names, but we would like to involve our audience to further confirm their popularity," Eremu said.

He advised the personalities and celebrities in the respective categories to mobilise their fans to vote for them.

The best stars of the 2016 will be published at the end of the year.

Winners will be determined by the highest number of votes they get in the different categories.
To participate, fill out the coupon, cut it out and return it to New Vision head office by December 15, 2016.