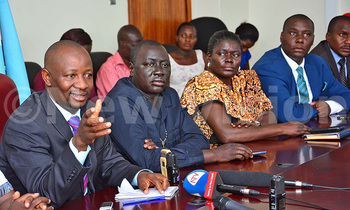 Opposition MPs during a news conference at Parliament. Photo by Miriam Namutebi
Opposition MPs have asked government to immediately release Omusinga Charles Wesley Mumbere and a list of the deceased.
At a press conference in Kampala, the MPs said they were travelling to Nalufenya Prison in Jinja to vist the king. Mumbere is detained at Nalufenya. According to Police, he faces treason charges.
MP narrates ordeal
For a while MP Atkins Katusabe (Bukonzo County West) thought was just having a bad dream.
For hours, he said he could not believe that he was alive after surviving what he called indiscriminate shooting and bombing by the UPDF and Police at the royal Palace in Kasese town.
Katusabe and other political leaders from Kasese district were reportedly inside the Palace in a meeting with the king, Charles Wesley Mumbere negotiating for peaceful resolution of the conflict when the attack occurred.
Narrating the ordeal, Katusabe said while in the meeting, he was constantly in touch with the UPDF operations Commander Brig. Brig Peter Elweru and other army officers.
"During the meeting, we were informed that the President had given the King an ultimatum of only two hours to surrender the royal guards. We immediately discussed that and after a few minutes the King agreed. However, he requested that they should be given safe passage and protected because at this time, the whole Palace was surrounded by soldiers," he said.
Katusabe said the guards were mobilized and prepared to exit. "I communicated the King's massage to Elweru and told him that the guards were unarmed and ready to exit but they needed trucks to transport them out of the Palace. Elweru responded saying they must not be armed. He said they should hand over all the weapons," he said.
At exactly 1:01pm, a minute after the President's ultimatum reportedly expired and when the leaders were still negotiating for an extension, the army and Police reportedly descended on the Palace breaking through the gate with mambas, bombs, shooting indiscriminately.
"That is when the killings started. The guards were not waiting for war but trucks. They were unarmed and innocent. The soldiers immediately ordered us out as the shooting continued everywhere. They wanted us to leave the Obusinga prime minister behind but I insisted that we either go with him or we all die. They accepted and that is how we survived," Katusabe said.
Katusabe narrated his ordeal while at a press conference held by opposition MPs in Parliament mainly MPs from Kasese district.