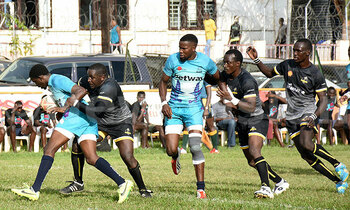 PIC: Action between Kobs and Rhinos at Legends Rugby Club. (Credit: Johnson Were)

SATURDAY RESULTS

Kobs 20 Rhinos 34

Pirates 32 Mongers 13

Heathens 19 Buffaloes 11

Former Kobs players Scot Oluoch and Kevin Makmot were ruthless against their former employer as Rimula Rhinos crushed Betway Kobs 34-20 in a league tie at Legends Rugby Club.

Makmot had a flawless foot, scoring six penalties and a conversion to help Rhinos brush aside Kobs while Oluoch was equally pivotal.

Rhinos coach Brian Makalama attributed the victory to change in mental attitude by his players.

"We had a physical game against Mongers but I am happy the boys came up focused for a win and we are going to continue with that," he said after the game.

"It is good the players changed their mentality and I hope they will continue with that in the next game."
James Ijongat had given Kobs a 3-0 lead through a penalty before Ian Munyani stretched it to 8-0 courtesy of a try.

But Rhinos replied with two penalties through Makmot followed by a Daudi Ssemwami try to turn the tables. Kobs surged again through a penalty and conversion to take a 15-11 lead into the break.

Second half however saw Rhinos deal the task at hand to eventually win.

In the other game played on Saturday, Buz Pirates beat Sadolin Mongers 32-13 while Heathens defeated Buffaloes 19-11.