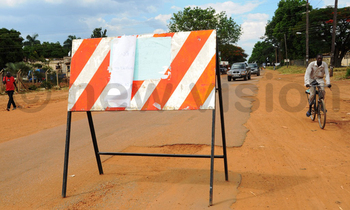 The road linking Soroti to Moroto via Katakwi has been closed due to the broken culvert at Komolo Bridge over the weekend.
Uganda National Roads Authority (UNRA) has now put sign posts directing the road users, especially motorists, to use Amuria or Toroma roads if they want to reach either Katakwi to Moroto or Soroti.
Katakwi outgoing RDC, Filbert Ocailap, said on Monday morning that the broken culvert cannot allow vehicles to cross until it's worked on by UNRA.
Ahmed Awoi the UNRA station engineer, Soroti, told New Vision on Monday afternoon that the road will not be permanently repaired immediately because it has been contracted to SAJAPA contractors.
According to Awoi, his office will look for alternative ways of covering up the broken part as they wait for the term maintenance of the road by SAJAPA whom he said is expected to start its work using the new designs in the next two or three months.
Awoi said the new design includes improving the culverts of the road.
This is not the first time the same road has been closed.
Early in March this year, the road was again closed after some parts of Komolo Bridge developed serious cracks but was put right by UNRA.