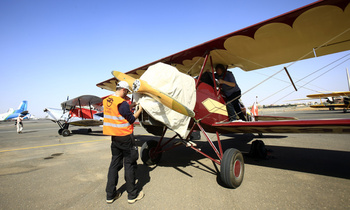 A dozen biplanes taking part in a vintage air rally bound for Cape Town arrived in Sudan's capital on Sunday, with one participant walking away from a bad landing.

The aircraft dating from the 1920s and 1930s took off on November 12 from the Greek island of Crete on their 13,000 kilometre (8,000-mile) journey to Cape Town.

It is the largest group of vintage biplanes to attempt the journey across Africa, with teams from a dozen countries including Britain, Canada, France, Germany, South Africa and the United States.

British pilot Maurice Kirk, 72, known as the Flying Vet, walked away from a hard landing in his Piper Cub at Khartoum airport on Sunday, organisers said.

He had only joined the rally earlier Sunday, despite his Piper Cub not being a vintage biplane, and his plane had to be towed off the runway after the mishap.

"He had a bad landing. His plane is little bit scratched, but he is absolutely fine," Vintage Air Rally spokesman Jeremy Martin told AFP.

"He missed the rally in Greece and Egypt... Today was the first day he had joined us."

Kirk has experienced several mishaps in the past, including in 2008 when he crashed in the Caribbean.

He was rescued then by US coastguards, and to express his gratitude he later dropped in on the Texas ranch of former US president George Bush.

"He's an adventurer... his plane needs a bit of repairing now," Martin said.

The vintage aircraft will join an air show in Khartoum on Monday, and after Sudan they fly to Ethiopia and other African states before the rally ends on December 17 in Cape Town.

Last week the biplanes became the first group of aircraft allowed to land at Egypt's Giza pyramids in 80 years.