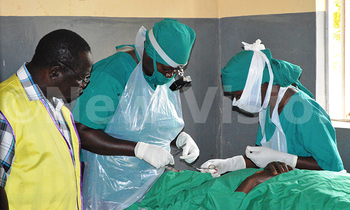 Theresa Aremu contracted trachoma at a tender age of 5. The resident of Ariamao village in Nabilatuk sub-county, Nakapiripirit district, says she at first did not know what had befallen her. As years went by, the infection progressed and Aremu lost her sight at around 20 years of age.
The mother of nine confesses that her family lacked a pit latrine and that they practice open defecation, thereby attracting flies in her homestead popularly known as a Manyata. Aremu describes trachoma as a very painful and irritating disease.
"Trachoma is easily spread from one person to another by flies. Tears mixed with yellowish mucus would flow uncontrollably from my eyes resulting into painful inching," she explains through an interpreter.
But when she learnt of a trachoma project at Nabilatuk Health center IV last year, she responded and got operated upon. "I am very happy bacuse I can see again," says a beaming Aremu, now aged 42.
Aremu thanked the trachoma project spearheaded by the Health ministry, Lions Clubs International, Queen Elizabeth Diamond Jubilee Trust (QEDJT) and other stakeholders, for coming to her rescue.
Aremu's husband, 52-year-old Felix Lorika, recalls, "We fell in love with Aremu when she was 15 years old in 1989. She had trachoma but her condition intensified in 1995 when the infection caused a roughening of the inner surface of the eyelids until she lost her sight."
Lorika said they also got educated through the project, and they have since constructed a pit latrine on top of ensuring that every family member washes their hands after visiting the toilet.
Aremu is one of the hundreds of patients who have undergone surgery in the 17 districts in Karamoja and Busoga regions where the trachoma project has worked since 2014.
Toilet coverage
According to the Ministry of Water and Environment Sector Performance report 2015, districts of Napak, Kaabong, Moroto, Kotido and Nakapiripirit practice open defecation because of lack of toilets.
Over 2 million Ugandans have no toilet facilities, data from the 2016 National Population and Housing Census released by the Uganda Bureau of Statistics (UBOS) indicates. This represents 8% of the 34.6m people in the country.
Trachoma treatment
The Ministry of Health National Trachoma Program Manager, Dr. Patrick Turyaguma, said they have carried out 21,239 trachoma trichiasis surgeries in 17 districts within Karamoja and Busoga regions since the project kicked off in 2014.
A total of 2,527 patients are yet to undergo surgeries in Karamoja and Busoga, which are being done in conjunction with implementing partners like Sight savers and Christian Blind Mission (CBM), noted Turyaguma.
"In 2014, a total of 9,325 surgeries were done in Busoga while 3,394 were done in Karamoja .A total of 4,246 surgeries were carried out in Busoga in 2015 while 3,548 were done in Karamoja. So far in 2016, 783 patients have undergone surgeries in Busoga while 1,121 surgeries have been done in Karamoja," he explained.
Sight savers country director Dr. Johnson Ngorok who implements surgery of trachoma countrywide said "Before the project started in 2006, we targeted to correct 38,000 surgery cases in Busoga region, we are remaining with less than 4,000 cases, by 2017, we shall have worked on them."
The project also distributed about 2 million doses of medication. By the end of this year, over 7,500 patients are expected to have eye operations under the same project.
Minister warns
The Karamoja Affairs minister, John Byabagambi, said he had launched a campaign to discourage the Karamojong against open defecation, saying flies that visit faeces were spreading trachoma thus increasing cases of blindness.
Byabagambi asked the locals not to re-elect Members of Parliament from Karamoja who would not support his strategy to end open defection. The minister advised residents to desist from poor hygiene and improve sanitation in their homesteads as a tool to eradicate trachoma.
The minister, who was speaking at the 2016 World Sight Day at Nabilatuk playground in Nakapiripirit district last weekend, said the high incidence of blindness in Karamoja was due to poor hygiene and sanitation resulting from open defecation.
"Some 44% of blindness in Karamoja is caused by cataract while trachoma accounts for 26%. But improved hygiene reduces the fly population in homes and the surroundings thereby reducing trachoma," Byabagambi said.
About trachoma
Dr. Robert Mayeku, a consultant Ophthalmologist at Nabilatuk Health center IV in Nakapiripirit district said blinding trachoma is an infectious disease caused by bacterium chlamydia trachomatis.
"Trachoma is a bacterial eye infection found in poor, isolated communities lacking basic hygiene, clean water, and adequate sanitation. It is easily spread from person to person through eye-seeking flies, hands, and clothes," he said.
Mayeku noted that repeated infection leads to scarring and inward turning of the eyelid — a very painful condition called trichiasis — eventually causing blindness if left untreated.
Mayeku said trichiasis (in-turning of eye lashes) leads to constant rubbing on the cornea, causing corneal ulcerations which heal by scaring and thus leading to corneal opacity.
"The disease robs people of their sight as repeated infection turns eyelashes inwards, scraping the cornea and eventually causing irreversible blindness. Flies act as physical vectors for transmission of chlamydia trachomatis. The responsible vector breeds in human excreta on the ground surface," he explained.
He said blinding trachoma was more common in females than males because of the role of women as caretakers of children who are the main reservoir of infection.
The funding
The project director, Queen Elizabeth Diamond Jubilee Trust Trachoma initiative in Uganda, Michaela Kelly, said, "The trust has committed £6.5m (sh27.5b) for five years since April 2014 to March 2019 to support surgeries and improve sanitation and hygiene in Karamoja and Busoga regions.
Polly Karimari Ndyarugahi, the Lions Clubs of Uganda trachoma grant administrator said , Lions Clubs International Foundation and the Queen Elizabeth Diamond Jubilee Trust Fund donated $1m (sh3.4b) to Uganda to boost the fight against trachoma in Busoga and Karomoja early this year.
The money was part of the $5m (sh17.3b) five-year grant (2015 - 2020) that the two Funds contributed to eliminate trachoma in the world.
Dr. Michael Kakinda, the project coordinator Lions Clubs of Uganda said the treatment of trachoma patients is being implemented through the Lions clubs of Uganda Trachoma Project. "We are working with Carter Centre as the coordinating partners, Sightsavers Uganda and CBM as implementing partners and the Ministry of Health who oversee how the project is being implemented."
He said the fundraising was part of the Diamond Jubilee celebrations where a charitable foundation, Queen Elizabeth Diamond Jubilee Trust Fund, was set up to mark the Queen's 60-year contribution to the Commonwealth. The Trust's mission is to leave a lasting legacy, owned by the whole Commonwealth, in honour of the Queen of England.