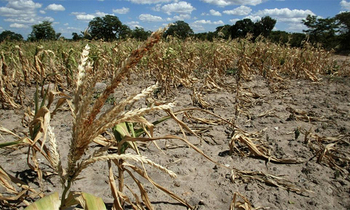 Following reports of drought in various parts of the country, the Uganda People's Congress (UPC) party says government needs to come up with lasting interventions to make sure the problem does not happen again in the future.

The opposition party blames the problem on rampant destruction of water sources like forests and wetlands countrywide.

UPC national chairman, Lawrence Engirot Okae, warned that Uganda is heading for more danger if nothing is done to save what is left.

A number of districts are facing food shortage due to persistent drought. Some of the most affected districts include; Isingiro, Rakai Sembabule, Bukomansimbi, Masaka, Kalungu and Lwengo among others.

"We thank government for their interventions, but we think there is need to come up with more lasting sustainable approaches to prevent such conditions from occurring in future," said Akae.

He noted that many Ugandans especially those in the cattle corridors have also been forced to sell off their cattle at cheaper prices to care and feed their families, thus creating a vicious cycle of poverty.

President Yoweri Museveni last month launched the use of bottle irrigation in Luwero district as part of interventions that farmers can adopt in case of drought.

Recently, agriculture minister Livingstone Sempijja said government was considering constructing community dams within the cattle corridor and dry areas to address the issue of water for animals.

"Climate change and its impact should not be ignored," said Sempijja.

"Government needs to take action and address this pertinent contribution to the crisis that has resulted from lax environment concern."

Meanwhile, Okae said environmental destruction has led to change in rainfall patterns which majority of Ugandans rely on for agriculture.

"This has had a serious impact on the rural economy who depend on agriculture. That is why we consistently called for increased budgetary allocations to the agricultural sector, coupled with effective planning and greater government intervention," he added.

UPC is also calling for investment in infrastructure such as storage facilities for agricultural produce to address the issue of food security.