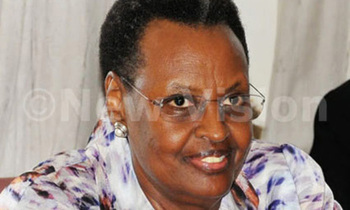 First Lady and Minister for Education and Sports, Mrs. Janet Museveni. Photo/File

First Lady and Minister for Education and Sports, Mrs. Janet Museveni has hailed the students of Uganda Christian University for exhibiting good relationship with administration to address matters that cause riots and strikes in universities.

She said that as government, they are proud of the administration for instilling total discipline and not getting involved in any kind of destructive strikes in the past 19 years of the university's existence.

Represented by the state minister for sports, Charles Bakabulindi at the first graduation ceremony for UCU Mbale Constituency College, Mrs. Museveni this morning urged parents to always take part in making good choice of universities for their children, adding that a good university should able to instill good discipline in its students and avoid strikes.

"Parents and university managements should not only pay fees and teach students how to pass examination but also give students words of wisdom," she stated.

She added that billions of shillings and university properties have been lost during strikes, pointing out the fact that during strikes, students miss studies.

"I have never heard Uganda Christian University being closed because of striking students and I trust in the administration that it will never close," Mrs. Museveni said.

She called upon the UCU administration to focus on business incubation centres; skilling Uganda through developing technology courses to match the available job opportunities in the industry.

Mrs. Museveni appealed to the graduands to keep the image of UCU by not getting involved in dubious acts and stay alive to serve the country.

The graduands were also encouraged to continue learning, be good listeners and avoid treasuring their degrees, diplomas or certificates if they are to be productive.

A total of 406 students graduated in different disciplines. 213 were female while 193 were male.

Stanley Ntagali, the Archbishop of Church of Uganda; who also is the Vice Chancellor of university revealed that UCU is the first private university in the country to have two constituent colleges.

"We give praise and thanks to God for the wonderful students God brings to study at UCU who despite the usual challenges of universities have behaved honourably. They have learnt to work with the administration to address matters that have caused strikes and riots in some other universities," Ntagali said.

He appealed to the graduands not to take their parents', guardians' and sponsors' help for granted.

"Please don't let them down. I say choose what is right and good. It's my hope that you have not only built a foundation of knowledge but also for right living. If you do not know which direction to take, all the knowledge and energy for this journey will be in vain," he advised.

"Your life will be no better than the plans you make and the actions you take," Ntagali added.

The principal of Mbale University College, Dr. Stephen Mungoma also urged the graduands to be trustworthy, honest and be dependable. He added that they should be different from all Ugandans who participate in and encourage dishonest dubious dealings.

"I need not to remind you of the corrupt tendencies that have become part and parcel of living in this country. Be different," Mungoma said.

He also urged the graduands to learn and practice the art of serving others for in so doing; they will learn the art of leading. He also emphasized the fact that this country is running short of servants; men and women who will give service by going out of their way to solve problems of others. He told the graduands that by serving selflessly, they will have positively influenced society.