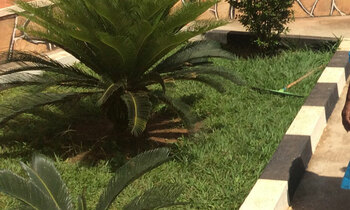 Have you ever thought of how beautiful and tidy your garden can be if you surround it with an edge, one would use pavers, stones, small flower pots or even logs. However, to save, one can go in for cheap home- made alternatives.
David Nkwanga, a gardener says an edge helps to hold back soil so that it does not run off in case it rains and also keeps the grass from intruding the garden. And since the edge is surrounded by either stones or logs, one will not have to trim it all the time.
He adds, the edge does not need a lot of maintenance and it is not expensive because one can use things around them like stones or logs.
Below are some of the materials to use:
Stones can be used on the garden edges but this will depend on the type of stones one is able to access. Slate kind of stones can be good for edges.
"For someone who can access stones either in their land or in a near-by query, they can be a relatively cheaper alternative. Otherwise, bought on the open market, stones may not be much cheaper than pavers," Nkwanga notes
Bricks can also be used especially good quality clay bricks however, Nkwanga, explains that soil bricks tend to weather away and the sustainable alternative may be to plaster them.
"Using bricks instead of pavers may result in saving of at least 40% but the life-span is relatively shorter as well," he says.
He says wood could be another cheaper alternative to pavers because the main limitation is that most wood is not resistant to water and termites which make them rot or eaten in a relatively short time.
Nkwanga adds that there are, however, some wood types that are relatively resistant to
water degradation. One such tree is teak tree which is a very good outdoor design wood, pine tree is also relatively resistant to rotting.
"Another way to add resistance to your wood may be through treatment and regular painting," he advises.