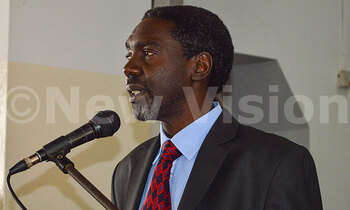 Participants at a public dialogue on inclusive politics in various political parties have stressed the need for affirmative action as a provision in their respective constitutions.

The participants, majority of whom were women and youth politicians, also called on the political parties to establish an empowerment fund to support women and youth to run for various key positions in the country and parties.

Salaamu Musumba, the Forum for Democratic Change (FDC) regional vice president, said the issue of gender mainstreaming is extremely low in political party activities.

She added that a number of political parties had not allowed youths and women elect their leaders rather than imposition.

"Political parties should desist from imposing youth and women leaders on the youth and women members of the party and allow them to choose their leaders."

Musumba also noted that parties should institutionalize mentorship programs to train new sets of leaders for a guarantee successive plan and consider 50 percent waiver on the nomination forms for women and youths contesting for elective offices.

"Political parties should respect internal party democracies as women and youth are victims of lack of respect of party rules and guidelines. Parties should also encourage women to run for other political positions within the party outside the office of the woman leader."

The call was made during a public dialogue on inclusive politics organised by Inter-Party Organisation for Dialogue (IPOD) in Bugolobi, Kampala on Tuesday.

IPOD is an umbrella body that brings together all political parties in Uganda with representation in Parliament. Currently IPOD comprises of DP, FDC, UPC and NRM.

The conversation aimed at examining the extent to which Uganda's major political parties provide for and promote the inclusion of women, youth and other special groups in political and policy processes.

It also explored ideas on how the political and policy influence of hitherto marginalized groups can be strengthened within political parties and other governance institutions.

Jimmy Akena, president of UPC, stressed the need of encouraging the youth to help build strong political parties in order to create a truly democratic environment in Uganda.

"My party has given important role and responsibilities to its young members as well as the right of vote to youth," he said.

George Odong, the NRM northern region coordinator, said practical politics groomed true leaders, adding that it is very important for youth to be involved in politics.

He noted that the role of youth is being recognized by every party because only youth can save the country from the current political and governance crisis.

"Our party has been providing more tickets to youth and women for general seats. This has also strengthened the party's democracy."

Idah Nakuya, a former Kampala woman MP aspirant, called for a cross-party network for women politicians of different political parties to interact and discuss issues that militated against the progress of women in the society.

"Women were largely used by political parties yet they contributed significantly to their development and as such they must be given the needed recognition to be able to do more for their respective parties," she she.

Transparency and accountability

Perry Aritua, executive director of Women's Democracy Network, urged parties' leaders to promote transparency and accountability at all levels of leadership.

She said transparency and accountability are extremely important leadership qualities that should be upheld by.

"It is imperative on parties' leaders to express interest in how the resources and powers entrusted to them are effectively and efficiently utilized.

"Democracy thrives on truthfulness, fairness, accountability and transparency. Therefore, it has become necessary to impart such virtues on the youth," said Aritua.

Michael Mugisha, a lecturer at Makerere University, also stressed the need for accountability and transparency in the civil service to ensure public satisfaction and good governance.

"We believe that a full and robust democracy depends on the equal participation of young people, especially women. When women participate in decision making, the economic and social wellbeing of their country grows.

"More inclusive governing and peace building processes will also take root."