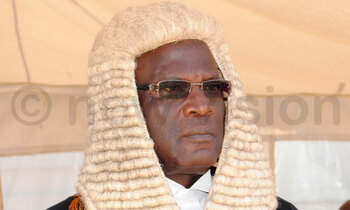 The Deputy Chief Justice, Steven Kavuma has confirmed that the Court of Appeal will start hearing election petitions tomorrow (Monday).
He made the disclosure during a meeting held with the Judiciary case backlog reduction committee in his office at Court of Appeal in Kampala on Friday.
Kavuma said the court will preside over 140 cases including Peter Sematimba's appeal and complete them within a period of six months, as required by the law.
"We shall speed up the hearing of the petitions within the time frame because people want to know their leaders in the shortest time possible," Kavuma promised.
He stated that the hearing of the said petitions will negatively impact on other cases, which might create a case backlog.
The Chief Justice, Bart Katureebe last month appointed an 11 member committee headed by Court of Appeal Judge Richard Buteera to develop strategies on how to reduce case backlog within two months.
Others Justices are Ntende Egonda, Esther Kisaakye Kitimbo, Geoffrey Kiryabwire, Stephen Musota, Henry Adonyo, Uganda Law society president Francis Gimara, Chief registrar Paul Gadenya Wolimbwa, Dorcus Okalany, Andrew Khaukha and Sam Wairagala