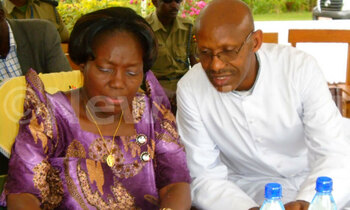 Speaker of Parliament, Rt. Hon. Rebecca Kadaga and the Rector of the seminary, Fr. Eugene Safari
The Speaker of Parliament, Rt. Hon. Rebecca Kadaga has asked the Catholic Church and other main-stream religions to work harmoniously with the government to promote religious tourism in the country.

She argued that religious tourism, if promoted, would help the country and the religious establishments to get income.
Kadaga made these remarks at St. Joseph's Minor seminary, Nyenga, in Buikwe district, on Saturday. She was the chief guest during the seminary's centennial fundraising function. She thanked the Catholic Church for giving holistic education to seminarians and other young people, which helps them become useful and productive citizens.

Kadaga later laid a foundation stone for the sh1.5bn building, which will act as the seminary's centennial monument. She later donated sh2m towards the project.
The Bishop of Lugazi catholic diocese, The Rt. Rev. Christopher Kakooza said that Nyenga seminary, which was started by the Mill Hill Fathers in 1924 and was bracing for its centenary hence putting up a commemorative building.
A total of sh28m was realised in cash and pledges. Those who made contibutions included among others Afande Felix Kaweesi, who donated sh1m and also promised to mobilise his fellow Police Officers to contribute sh4m. The MD of Centenary Bank, Fabian Kasi also donated sh5m.
The Rector of the seminary, Fr. Eugene Safari, thanked the alumni and friends of the seminary for the financial contributions they had made towards the project. He advised all those who wanted to make a financial donation to take it to the seminary, to the diocesan offices at Lugazi or, to bank it with Centenary Bank.

The Account details are:
Bank: Centenary Bank, Jinja Branch
Account Name: Nyenga Seminary Centennial Development
Account Number: 4310600120