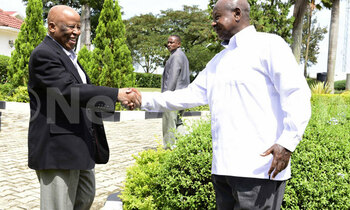 President Yoweri Museveni and Former Botswana President Festus Mogae after a meeting at Rwakitura in Kiruhura district.
President Yoweri Museveni has held a meeting with the former Botswana President Festus Mogae at Rwakitura in Kiruhura district.

Festus Mogae is the chairperson of Joint Monitoring and Evaluation Commission (JMEC), for the Agreement on the Resolution on the Conflict in the Republic of South Sudan.

The Agreement calls for JMEC to be chaired by a prominent African personality appointed by the IGAD Assembly of Heads of State and Government in consultation with IGAD-PLUS Partners.
Mr. Festus G. Mogae, was President of the Republic of Botswana between 1998 and 2008. After leaving office in 2008, Mr. Mogae received the Mo Ibrahim prize for achievement in African leadership.