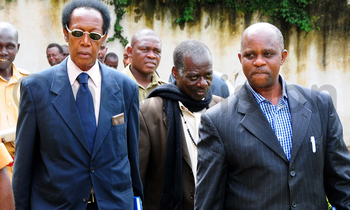 The Anti-Corruption Court has found Jimmy Lwamafa, Chris Obey and Stephen Kiwanuka guilty of causing financial loss of over sh88.2b and abuse of office.
Lwamafa, the former ministry of public service permanent secretary, Obey, principal accountant and Kunsa, director research and development were on August 19, 2015, arraigned before court and charged with several counts in relation to the irregular budgeting of National Social Security Fund (NSSF) and misappropriation of sh88b allocated to it.
Justice Lawrence Gidudu noted that the money was fraudulently paid to former employees of the defunct East African Community board.
He also said that the sh88.2b was siphoned through a syndicate which was initiated at the ministry of public service, modified at the ministry of finance, perfected at the Bank of Uganda and executed by Cairo Bank.
According to the State, they budgeted for NSSF, an item the ministry does not budget for and when the money was remitted, they diverted it to an unknown third party.
This came four months after the collapse of the sh165b pension scam case. The case was dismissed for lack of prosecution evidence after it had stalled for one a half years without any witness being produced in court.
According to the charge sheet, the embezzlement, fraud, conspiracy, false accounting and diversion took place in two financial years, 2010/2011 and 2011/2012.
Lwamafa, Kunsa and Obey converted and disposed of the funds in two instalments of sh44.1b for purposes which were unrelated to that for which the resources were budgeted for.
When they appeared before the court's Chief Magistrate, Sarah Langa Siu, for plea taking, they denied the charges and applied for bail, which was unsuccessful.
Siu instead committed them to the High Court for trial before Justice Lawrence Gidudu.