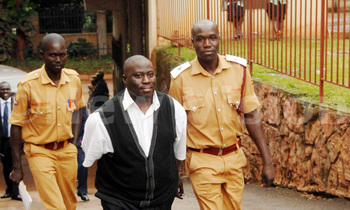 The case in which former principal accountant in prime minister's office, Geoffrey Kazinda is accused of illicit enrichment, has been fixed for hearing.

Justice Margaret Tibulya of the Anti- Corruption has fixed December 13, 14 and 15 to hear a case in which Kazinda is alleged to have illicitly amassed wealth.

Tibulya fixed the case after Sarah Birungi, the director of legal affairs from Inspectorate of Government (IGG) said, prosecution is ready to prosecute Kazinda.

Kazinda, 46, is also alleged by the Inspectorate of Government (IGG) to have amassed wealth estimated at sh4.6b which is not commensurate with his known income as A civil servant.

The IGG said Kazinda's known income for the period between 2009 and 2012 was established to be sh83.7m.

It is alleged that Kazinda maintained a luxurious standard of living when he rented and occupied Constellation Suits at Nakasero and apartments at Sheraton Hotel in Kampala for a period of ten months at sh210m.

Kazinda is also accused by IGG of being in possession of a house in Bukoto city suburb and land situated at Kyadondo Mengo West ,Volume 213 , Folio 21, plot 2132, valued at sh3.1b

In another charge, Kazinda is accused of being in possession of motor vehicles BMW, Mercedes Benz, Dodge Saloon car, Mercedes Benz ML Class estimated at sh769m. He denies the charge.

Kazinda is currently at Luzira prison serving 5 years imprisonment after he was convicted of abuse of office and forgery.