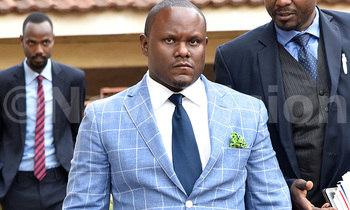 Apollo Senkeeto at court. File Photo
The parties that Uganda National Roads Authority (UNRA) dragged to the Commercial Court seeking to recover sh18.8b from them have filed a defence, saying they are not liable to pay any money.
Through M/s Oscar Associated Advocates, Apollo Senkeeto, McCoy Timothy, Richard Pratt, Nui Hong, Michael Olvey and Eutaw Construction Company contend that UNRA illegally terminated their contract without notice, hearing or due process.
They argue that UNRA purported to have rescinded the contract but there was no evidence of such action apart from a letter dated November 24, 2014, instructing Eutaw and its personal agents to immediately vacate the site not later than December 2, 2014.
The six parties to the suit, jointly say the suit was brought against them prematurely as per the contract, saying UNRA ought to have resorted to arbitration before instituting legal proceedings in a court of competent jurisdiction.
However, New Vision has learnt that Hong has retained separate legal counsel and filed a separate defence of his own.
Meanwhile, Eutaw has also sued UNRA, seeking orders for the release of their 12 motor vehicles and office items such as engineer house hold items, laboratory equipment, furniture and survey equipment that UNRA confiscated under uncertain terms.
They also seek court orders for payment of sh12m per day for every day their properties remain in police custody. They want UNRA case to be dismissed with costs.
According to court documents, Eutaw was awarded a contract to upgrade the 74km Mukono-Katosi road from gravel to paved standard after negotiations with UNRA.
The defendants disclosed that the negotiation team recommended that sh165b was sufficient to carry out the works. They say that at all material time; Eutaw represented its self as Eutaw Construction Company Inc. of 622 Beachland Blvd Suite Vero beach, Florida 32963 and no misrepresentations were ever made by it during bidding process and have presented a certificate of incorporation to prove their claim.
On November 7, 2013, UNRA wrote to Eutaw informing it that on the August 14, 2013, revalidation of the bid was done for execution of the works for the accepted contract of sh165b, requesting for the performance security within 28 days.
Thereafter, on November 15, 2013, a contract was executed between Eutaw and UNRA. However, as a partial performance of the said contract, sh24.7b was paid to Eutaw as part payment to cover its cost of mobilization to undertake the works as indicated in a letter dated December 30, 2013.
The defendants contend that as per clause 3.2 of UNRA's project brief updates of July 9, 2014, it stated that mobilization was ongoing and as the September 10, 2014 project brief, mobilization was achieved on schedule and thus UNRA is not owed any money paid for the mobilization process.
According to Eutaw, the aggregated general percentage of works achieved was 16.5% of the contracted physical works completed and yet the defendants claim to have carried on works for another 4 months before termination of the contract.
The defendants say they have documents to prove that an excess of sh33b worth of work was accomplished besides the sh24b paid for mobilization.
They aver that a sum in excess of sh24.2b is owed to Eutaw for the actual quantities of works that were already executed in addition to the advance payment.
They say; "the fact that UNRA claims in the valuation dated June 29, 2016, that sh6.2b was valued for the works only proves that Eutaw carried out the said mobilization successfully since such work could not be achieved without carrying out mobilization, which they assert was completed and acknowledged in the UNRA records of minutes for pre bid meeting with SBI dated November 6, 2014."
The defendants say UNRA failed to conduct a valuation upon termination of the contract contrary to clause 3.5 and 15.3 of the general condition, which requires the engineer to make consult, with each party to endeavour that an agreement is reached of value of works done upon termination of a contract.
They also contend that there was no suffering of economic loss or damages as alleged on the part of UNRA since it fully benefited from the executed works and is not owed a refund sh18.8b as was claimed by UNRA.