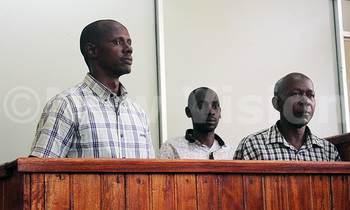 Convicts in the dock. Photo by Tonny Rujuta

Four people including a secondary school teacher were have been sentenced to over 2 years in prison after they were found guilty of being in possession of illegal ivory valued at sh58m.
The City Hall Grade One Magistrate, Moses Nabende, directed that Ali Wausa alias Hisefere 47, and Dickson Kweteisa, 39, pay a fine of sh6.5m or serve 28 months in prison.
Wausa is a teacher of Malongo Secondary school in Mayuge district while Kweteisa is self-employed.
The duo was convicted of transferring or accepting specimen of protected species and illegal possession of Wildlife trophies after four witnesses pinned them of the crime. The witnesses were Police officers Lazarus Debo, Isaac Okiba, Asaph Muhwezi and Samuel Amaya, a senior warden attached to Kibaale National Park.
Meanwhile, Nabende also ordered businessman Chris Tumukunde, 37, and student Charles Kakooza 17, to pay a fine of sh1m or serve 28 months in Prison after they were found guilty of conspiring to commit a felony.
Nabende noted that the accused were not remorseful during trial and wasted court's time.
"The act of stealing Ivory puts a great danger to animals especially elephants and hence we need to protect them," he stressed.
The trial magistrate considered the fact that the accused are first offenders, have no criminal record and are sole bread winners of their families.
Nabende ruled that the accused gave unsworn evidence which were riddled with inconsistencies and hence lied to court about their participation in the ivory scam.
The accused were not represented while Winnie Namayenje, a Natural Resource Conservation Network (NRCN) lawyer prosecuted the case.
According to prosecution, the four were facing three counts of contravening sections of the Uganda Wildlife Act Cap 200 law of Uganda and the Penal Code Act (PCA) Cap 120.
Uganda is becoming a preferred trafficking route for ivory from neighbouring DR Congo, Sudan and Central Africa Republic, according to reports because of laxity in security and corruption.
Elephants are endangered species listed under Appendix 1 of the red data list released by the World Conservation Union (IUCN). This means that elephants will disappear if their habitat is not protected and illegal trade in ivory is not stopped or minimized.