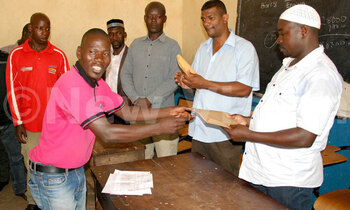 Photos by Ramadhan Abbey

Kampala Street Vendors have petitioned President Yoweri Museveni seeking his intervention over the continued arrest of their top leaders and confiscation of their merchandise by KCCA enforcement officers.

Meeting at Bat Valley on Saturday, the vendors under their associations Kampala Abangi g'emanyi Sacco and New and Old Taxi Parks Sacco resolved to petition the President to find a lasting solution about how the vendors and hawkers would operate in the city peacefully.

They handed a letter to Lubaga Division NRM chairman Abdallah Kitatta to take to the President.

According to the four paged letter seen by New vision, vendors claim that their merchandise has been confiscated by the KCCA enforcement officers and some of them have been arrested and remanded to Luzira after failing to obtain the huge amounts of money set by the City Hall Court to grant them bail.

They claim that they are required to pay between sh600, 000 and 800,000 to be released on bail which is unrealistic for a vendor whose capital is below sh100, 000.
They also contends that although all the Urban Division Councils in Kamapala have okayed and gazetted streets for the evening markets to benefit them, there is unfair propaganda against it yet they have measures under their leadership to ensure cleanliness on the gazetted streets after their work.

"Your Excellence, the said program has been proved applicable and it is one of the measures for vendors to work in co-existence with traders in the city because vending is not illegal but the time it is done and locations to be carried out matters," they stated.

They argued that their leadership has been broken down by Mafias and there is an open fight between them, KCCA enforcement officers and the police which must be worked upon with immediate effect for peace to prevail in the city.

They also claim that they have made several attempts to dialogue with the KCCA leadership to lay out strategies about their operation in the city but all in vain.

"We have contacted KCCA Executive director Jennifer Musisi, Kampala Minister Betty Kamya and Kampala Lord Mayor Erias Lukwago to agree on the way forward but the minister has played against this arrangement and instead authorized our arrest and forceful evacuation," part of the letter read.

They also complained that a vendor who fails to remit the illegal daily collections to KCCA enforcement officers is subjected to brutal torture and arrest.

Kitatta said that by Monday the letter would be on the President's desk and he also promised to support them until the issue is settled.
He blasted Kamya for turning a deaf ear on the vendors' concerns yet it is a simple issue that can be managed.

NRM Kampala Central chairman Salim Uhuru was among those who attended the meeting and he also pledged support to the vendors.

On October 19, Kampala Minister Kamya directed all street vendors in Kampala to vacate the streets, road reserves, open spaces, road carriageways and sidewalks with immediate effect.

Kamya explained that KCCA is likely to collect only 50 billion shillings compared to last year's 87 billion shillings with the current increased illegal vending activities in the city.

She stated that KCCA has identified several vending facilities in the existing markets and around the city as an alternative to vending on the streets and advised them to take advantage the markets.

Kamya noted that vendors prevent normal operation of licensed business, litter in the city and make it impossible to maintain and clean the roads and also create unfair trade competition.

She further noted that street vending has also led to insecurity and violence on the streets of Kampala, particularly between the shop traders and street vendors