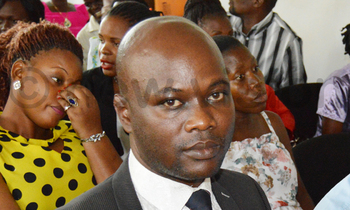 The Court of Appeal has allowed ejected Nansana Municipality MP Nsereko Wakayima to file his appeal out of time after the trial court failed to give him the typed judgment to enable him appeal.
Justice Simon Mugenyi Byabakama of the appellant court on Wednesday allowed him more time after he proved to court that his efforts to get the typed judgment and the proceedings in the High Court that threw him out of Parliament in June this year, had proved futile to date.
"I am satisfied that the applicant has taken steps to obtain the proceedings from the trial court but has so far failed to provide the same to him to enable him beat the timeline to file the memorandum of appeal," Byabakama said.
He noted that the errors and mistakes of court officials were sufficient grounds for granting extension of time to Wakayima to file his appeal out the stipulated time.
Byabakama ruled that since the inability of the applicant to file the memorandum of appeal in time was occasioned by failure of the trial court to avail the record and judgment to him, it would be a travesty of justice to deny him the extension of time to do an act he diligently pursued to execute.
Justice Vicent Okwang threw Wakayima out of Parliament after he found that he was not a registered voter in the constituency and also declared Robert Kasule the duly elected Nansana Municipality MP.
The judge also found no merit in the submissions of Kasule's lawyer Musa Ssekana's contention that granting the extension of time to Wakayima would prejudice his client since he was declared the winner of the election by the High Court.
"The appeal process will enable him extensively defend the decision of the trial High Court that found him the duly elected Nansana Municipality MP. I do not see any injustice to the respondent," Byabakama said.
Byabakama also validated Wakayima's documents as an excuse for the late filing of his necessary documents in the appeal he logged in court against Kasule.
In his application for the extension of time, Wakayima through his lawyer Richard Latigo told court that although his client filed the notice of appeal within 7 days required by law, he was unable to file the memorandum of appeal in time since he failed to secure the certified proceedings and judgment of the trial court.
When New Vision contacted Solomon Muyita, the judiciary communications officer, he said that different judges have different styles of operations but he would contact him to find out what exactly happened.
"Ordinarily parties are given the full judgment immediately after the ruling but some judges may deem it necessary to correct some typing mistakes before they give it to the parties. But I will speak to him and get back to you," Muyita said.