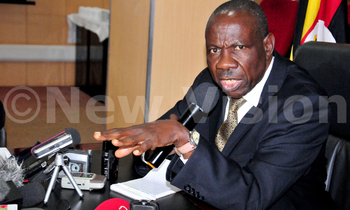 PIC :Finance minister, Matia Kasaija (Photo by Tony Rujuta)
The Parliamentary committee on Finance, planning and economic development, has summoned the finance minister, Matia Kasaija, as the House resumes debate on the controversial Income tax (amendment) Bill 2016.
Parliament passed the Income Tax (Amendment) Bill 2016 and decided to amend Section 21 (1) of the Income Tax Act, Cap 340, to exempt the employment income of members of Parliament, except salary, a decision that provoked public outrage.
Many accused the MPs of being insensitive to the priorities of the country and the general economic condition of the citizenry. Through their umbrella body, civil society budget advocacy group, (CSBAG) collected over four million signatures, asking the President not to assent to the Bill.
Following protests from both the public and civil society organizations, the President in May, 2016, returned the controversial bill to parliament urging that the decision by Parliament does not promote good practice because it undermines the integrity of both the Courts and Parliament.
The President, in a communication to the Speaker of Parliament Rebecca Kadaga further noted that tax exemption for members would affect revenue collection if the government is to meet its ambition of transforming Uganda into a middle income country by 2020 as well as meeting the short term demands for infrastructure development and social services.
"I do not support the decision of Parliament and am accordingly returning the Income Tax (Amendment) Bill for reconsideration by the House," he said.
The committee,chaired by Rubanda county MP Henry Musasizi, wants the minister to appear and defend his views regarding a number of issues that were raised by President Yoweri Museveni in the Bill
"Once the Bill has been returned to Parliament, the minister has to give his position on the issues that were raised by the President," Musasizi said.
A member of the committee who declined to be named told New Vision that the minister has been scheduled to appear before the Committee on Thursday (today).
In February, the Commercial Court ruled that the Parliamentary Commission should deduct tax from MPs emoluments.
The ruling was in response to a 2011 petition by Francis Byamugisha who argued that non-taxation of MPs income was causing a deficit in national tax collections.
However, Parliament has since petitioned the Court of Appeal over the Commercial Court ruling that ordered the Parliamentary Commission to deduct Sh9m in monthly Pay as You Earn Taxes (PAYE) from MPs salaries.