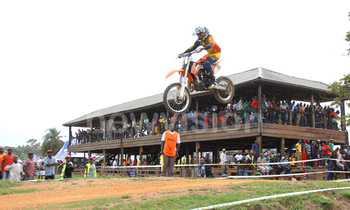 Maxime Van Pee has won the MX1 open class national motocross championship for the second time in a row.

This is after motocross organising clubs, Uganda Motocross club (UMC), SpeedWay Motorsport Club) and Enduro motorsport Club declared that there will be no seventh round of the national motocross championship event and the leaders in the various categories are national champions.

FMU deputy vice president in charge of motocross, Ismail Balinda confirmed the development on Tuesday in a press briefing held at Uganda Olympic Committee at Lugogo where the third and final round of the Enduro and 4x4 championships was launched.It takes place on November 6.

"I want to announce that we shall not have the seventh round as rumours had put it," Balinda stated.

"Our original calendar had six events and we have completed them. We are now focused on fundraising USD 65000 (sh224, 857,746=) to take a team of 40 riders to Nairobi for the second round of the FIM Central Africa championship in December 10-11."
Fatuh Kiggundu. PHOTO: Johnson Were
Barak Orland, Maxime van Pee, Fatuh Kiggundu, Yasin Kasirye, Fortune Ssentamu, Imran Nkurunziza, Isabella Blick and William Blick are champions in Vets MX1,MX2,MX125,85,65,50 and Peewee classes respectively.
2016 Champions

MX Vet

1. Barak Orland 117 Pts

2. Ashraf Mbabazi 52

MX1: class

1. Maxime Van Pee 297

2. Arthur Blick Jr 261

MX2 Class

1. Fatuh Kiggundu 341

2. Yasser Ali Omar 251

MX125 class

1. Yasin Kasirye 226

2. Paddy Blick 155

MX85 class

1. Fortune Ssentamu 325

2. Ben Nsumba 292

MX65 class

1. Imran Nkurunziza 288

2. Malcom Lubega 286

MX50class

1. Isabella Blick 320

2. Alon Orland 275

MX50 Junior

1. William Blick 343

2. Miguel Katende 316

MX Ladies

1. Kawthara Balinda 120

2. Abigail Mwangala 94