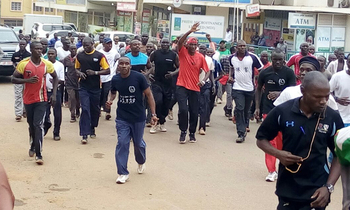 The Inspector General of Police Gen. Kale Kayihura has urged Police officers to emulate crime preventers who do work and produce good results without facilitation.
Kayihura was presiding over Police marathon and physical fitness exercises in the Southern region which comprises the districts of Masaka, Kalangala, Bukomansimbi, Lyantonde, Lwengo, Sembabule and Kalungu.
The event was held at the Mutesa Royal l University in Masaka district where he donated a bull to every district for the exceptional turn up.
"For all the marathons we have had so far, this is the most attended and I am greatly impressed," Kayihura noted.
He urged the Police officers and crime preventers to make this a weekly event saying it was healthier for them.
Participants at the marathon started arriving on Friday evening and were received by the advance team which was led by Blaze Kamugisha the head of the National Crime Preventers Forum.
At exactly 6:30am on Saturday morning, Gen. Kayihura arrived at the university football ground to flag off the marathon. Huge crowds lined up the streets of Masaka and waved at Kayihura as he led he led the participants.
Shortly after the race had ended the participants were taken through fitness exercises drills, self-defence skills and taekwondo. The crowds were then entertained by musicians Navio and Gravity Omutujju.
The President Uganda Local Government Association Godfrey Mutabazi who also doubles as the chairperson of Lwengo District urged crime preventers to help him in fighting people who don't have toilets in their homes.
Mutabazi further promised to financially empower crime preventers because they are doing a great job in their respective communities.
The Uganda Police Force held its Police Week at the beginning of this month celebrating under the theme 'Monitoring, Evaluation, Rectification and Building the Uganda Police Force'.
Kayihura directed Regional, and District Police Commanders to undertake physical fitness activities including running a ten kilometre race in their respective areas of operation every Saturday.
The RPC's and DPC's were also directed to work with schools and communities in their respective operational areas with the aim of tapping fresh talent.