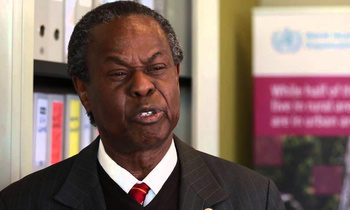 Health experts in Uganda have asked government to dialogue with the citizens on how better to improve the delivery of health services in the country.

Speaking at the launch of the 2016 State of Uganda and World Population Report, Prof. Francis Omaswa, the former director of health services said a dialogue between government and the citizens could provide workable solutions to the challenges in the sector.

"The management of the health system is weak. You cannot give someone a salary, which they can't live on, and then you send them to Arua. This is a joke," he said, also proposing that the office of the director general of health services should be fused with that of the permanent secretary.

According to the report, the health sector in Uganda is characterised with inadequate funding, rude health workers, poor remuneration of staff and understaffing among other things.

Commenting on the Abuja declaration, which requires government to allocate 15% of their budgets on health, Omaswa said the percentage was not well crafted and that it is not achievable.

Omaswa and State Minister for Finance and Planning, David Bahati instead proposed a home grown solution to health funding—based on a per capita formula.

Meanwhile, Dr. Anthony Mbonye, the director general of health services in the Ministry of Health, said that if he is confirmed on the job, he will work to see changes in the way health centers in the country are run.

Mbonye said he would wish to see government give much attention to health centre IIs in the country than health centre IIIs.

Speaking on behalf of the United Nations Population Fund, Miranda Tabifor, the deputy country director, said the world population report focused on securing the future of the 10-year-old girl child.

The State of World Population report notes that of the 125 million 10-year-olds today, 60 million are girls who are disadvantaged.