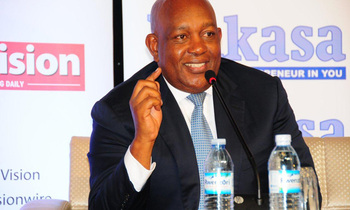 He has interests in practically every lucrative business sector in Uganda and beyond from telecommunications, finance, energy, oil, real estate, agribusiness, transport and logistics among others. Now Ugandan billionaire Charles Mbire has expanded his interests into cement manufacture, an equally lucrative venture.

According to Memoranda of Association and Articles of Association seen, Mbire, best known as the chairman MTN Uganda, the biggest telecommunications company in Uganda, is a partner in Kampala Cement Company Limited. The other partner is Rajinder Singh Baryan, chairman of Nairobi-based East African industrial conglomerate, Multiple Group.

The businessman was not available for comment but his office which confirmed the partnership declined to divulge details of Mbire's stake in the project which sources describe as significant.

The company, which owns a $100m (sh340b) cement factory at Namataba, 30 Kms from Kampala on Jinja highway, that opened last year, has been in the spot light with Members of Parliament questioning the source of their raw materials.

How big is Kampala Cement?
In an advert earlier this week, Victor Omino, production manager, said the company which produces an estimated one million metric tonnes of cement annually offers four brand names - Nyati 32.5, Kifaru 42.5, Ndovu 42.5 and Supercrete 52.5.

Uganda has three major cement manufacturers with Tororo Cement Limited in Tororo in eastern Uganda, produces an estimated 1.8 million metric tonnes of cement annually being the largest. The other is Hima Cement Limited in Kasese with an estimated 850,000 million metric tonnes.

Already, Kampala Cement supplies cement to some of the biggest projects in Uganda the largest among which is the Karuma hydroelectricity dam which is being constructed by Sinohydro Corporation Limited and the Kampala Northern Project Project Phase II under Uganda National Roads Authority (UNRA) by Mota-Engil Engenharia E Construction Africa SA.

Other projects the factory supplies with cement are the 22 floor URA Headquarters by Seyani Brothers; Mukono-Kayunga Road by SBI International Holdings AG (Uganda); Mulago Hospital Renovation, Nsambya Housing Estates, Imperial Shopping Malls & Hotels (Entebbe) and Nakawa-Naguru Housing estate (all by Roko Construction) and Nakalama-Tirinyi road construction (under UNRA) by Dott Services.

Who is Charles Mbire?

With a reported net worth of over $350m (sh1.2 trillion), Charles Mbire is widely believed to be the richest indigenous Ugandan. Sudhir Ruparelia tops the list.

This deal makes Mbire, who recently sold off his Kabale-based Afro Alpine Pharma Limited factory that produces and distributes anti-malarial treatments in Uganda and Africa, the arguably the first indigenous Ugandan businessman to venture into heavy Industries.

Mbire is the largest individual shareholder in MTN Uganda's operations with a 5% worth over $70m. The company, which President Yoweri Museveni named the top tax payer in Uganda at sh458b in May this year, is estimated at over $1.5b.

According to Forbes, a reputed international finance publication known for their Africa's 50 Richest List which estimated his net worth at $200m (sh680b) in 2012, Mbire's Bomi Holding Company owns a 15% stake in Rift Valley Railways (RVR) worth about $84.4m (sh287b).

The publication also reports that he owns a 36% stake in power company, Aggreko, worth about $40m (sh136b) and a $60m (sh204b) stake in oil and gas exploration company Rift Energy.

He also owns Nile Com, MTN's second largest distributor of MTN airtime; Bay port services and has sizeable stakes in Eskom Uganda, Panalpina East Africa, Ecobank Uganda, Invesco Uganda Limited and a new port set to open in Mombasa soon.