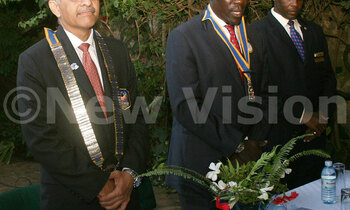 Ugandan Rotarians have been advised to offer business mentorship skills to youths in order to increase business prospects and change lives of different communities.

Rotarians were told that apart from strengthening their Rotary membership, they should also increase Rotaract clubs accordingly.

This move is intended to increase the culture of bridging service delivery in most communities in the country.
This message was delivered by Governor Jayesh Asher during a grand ceremony to welcome him to Makindye West Rotary club at Makindye country club.

"As we participate in changing lives of different people in communities where we live, we need to empower youths with business skills and become empathetic towards contributing to changing lives of vulnerable people in communities," said Jayesh.

Taphus Birungi, director youth service said there is need to attach right mentors to encourage youth appreciate the culture of transforming society.

Birungi says this will help create impact greatly and spread the main goals of Rotary which is changing lives in different communities.
Daniel Nsibambi, the publicist at the Makindye based Rotary club said awareness can help increase membership participation. He encouraged all members to live exemplary lives as they strive to contribute towards positive change in communities where they live.

Richard Kalibaala, a service project officer at Makindye West said there is need to carry out community sensitization to reduce illiteracy through prioritizing literacy. This will change the mindset of people and increase membership of Rotary clubs in the country.