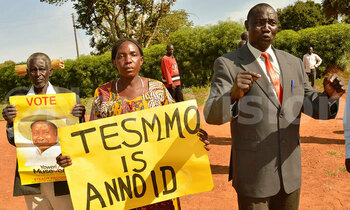 Photos by Emmanuel Alomu
Former members of opposition in Soroti District who defected to the ruling National Resistance Movement (NRM) a few years ago have protested expressing their concern that some leaders in Teso are blocking and denying them chance to meet the party president.

The group of less than fifty people under their umbrella association-Teso Strategic Mobilizers Move (TESMMO) managed to beat the security and held a peaceful demonstration in Kengere Ward, Eastern Division in Soroti town.

The protestors led by their leader, Joshua Ijala started matching near Sip and Spin club at around 9.00Am and they dispersed immediately in fear of the police whom they expected to arrive anytime.
The demonstrators were holding president Museveni's posters and placards reading "Demonstration will continue until we are attended to, why use us and dump, TESMMO is annoyed, NRM Cadres exploited, we want to see the president and who should meet M7 and who should not."

Ijala said 13,000 of them crossed from opposition Forum for Democratic Change (FDC) in 2014 and were promised by some leaders in Teso to meet the president if they mobilize for votes in the districts of Soroti, Kaberamaido and Serere but later abandoned without being helped to meet the president at his residence in Rwakitura.

"The president himself in Nwoya and Soroti districts promised that he will meet with us in Rwakitura but told us that the leaders will help us reach him, unfortunately the leaders are dodging us," Ijala said.
The NRM district Chairperson Soroti, Charles Elasu said he knows the members but denied that not even one of them has raised any complaint to his office.

"They are doing their things in their own and I want to assure them that politics is a voluntary work thus there is no need to ask for appreciation until the person you are helping does it at his/her own time," Elasu said.

He added that "I have finished 25 years in NRM but whether am appreciated or not it's ok and I will not demonstrate."

The NRM Chairman Soroti however blamed them for forming up an association of only defectors saying it becomes difficult for them to link with the president.

"I introduced them to the president in Soroti flying school but they later even abandoned me who did that," Elasu said.

RDC Soroti, John Stephen Ekoom said this was an arrangement of a few people just to create an image that is political.

President Museveni got over 58 percent votes in Teso sub region.