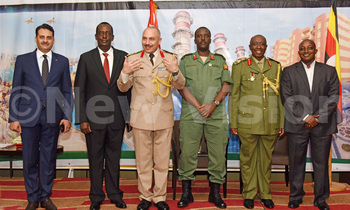 PIC: Left to right: Counsellor Egyptian embassy, Ahamed Mohamed Yousef Habib, Commander Land Forces Uganda People's Defence Forces Major General David Muhoozi, Egyptian defence attaché Col Ahmed Abo Shark, Maj Gen James Mugira, UPDF Air force Chief of Staff, Col James Birungi and Brig Charles Bakahumura pose for a photo during the Egyptian Armed Forces Day at Sheraton Hotel Kampala, October 12, 2016.Photos by Richard Sanya

Uganda People's Defence Forces (UPDF) has hailed the warming relations between Uganda and Egypt; saying it portends a bright future for the people of the two countries.

This was revealed as top Ugandan military officials joined their counterparts from Egypt in Kampala to celebrate the Egyptian Armed Forces Day.

Major Gen. David Muhoozi, representing Uganda on behalf of Gen. Katumba Wamala, commended Egypt for supporting UPDF to professionalize its army by offering training opportunities for Ugandans in Egypt.

Muhoozi also said Uganda and Egypt were working together to defeat emerging threats like terrorism.

Egypt has been battling terrorists from Islamic State. On the other hand, since terror attacks by Al Shabaab in 2010 where more than 70 people lost their lives, terrorism has become a big concern for the government.

Muhoozi said graduates from Egypt like Maj Gen. Muhoozi Kainerugaba have qualified with honours in different military courses and showed great proficiency in their work.

He said Egypt had opened a defence office in Kampala in 2014 and Uganda was ready to send a member of UPDF to Cairo as a reciprocation gesture.

"We have no choice but to cooperate for the good of our people and the stability of the two nations," Muhoozi, the commander Land Forces, said. "Egypt is one of the largest armies in world and Uganda takes pride in associating you."

Egyptian Armed Forces Day is commemorated every year to remember Egypt's famous victory over the mighty Israel in 1973.

On that day on October 6, 1973, Egypt supported by its air force and fighting under the command of General Hosni Mubarak defeated Israelis, who had been occupying the Sinai Pensinsula (belonging to Egypt), for over six years.

So popular has been the victory, also dubbed the 'military miracle', that many military colleges and institutes around the world are still teaching the principles and stages of preparation of that war.

During the event in Kampala, a short video showcasing that famous victory was showed on giant screens to the audience that included dignitaries from foreign embassies in Uganda and top officials from the military and the civil service.

Col. Ahmed Abo Shark, the Egyptian Defence Attaché in Uganda, said the 1973 victory was not an event but it was a result of the struggle of the people of Egypt to regain peace, restore security and transit from despair to hope.

He thanked Uganda for allowing Egypt to open an Egyptian defence office in Kampala two years ago, adding that ties between Uganda and Egypt are inevitable because the two countries share a lot in common.

"…No one can ignore this fact; we are the sons of one (River) Nile," Shark said.

He added that since he came to Uganda, he has been impressed by the hospitality of Ugandan people and promised his country's continued cooperation with Uganda.