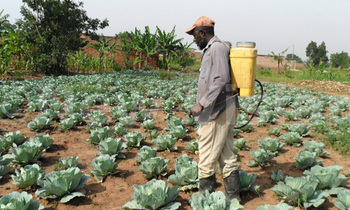 Uganda is set to host a regional meet on agriculture.
Dubbed 'Agribusiness Congress East Africa', the summit seeks to address pertinent issues that are preventing the industry from flourishing as a global hub.
The two-day event will take place at Sheraton Kampala from 29-30 November .
"It will offer market access to more than 200 million people through Kenya, Ethiopia, Uganda, Rwanda, Burundi, Tanzania and South Sudan," said a press statement by the congress secretariat's publicist, Annemarie Roodbol.
Agriculture accounts for almost 30% of GDP in East African countries while staple foods represent 75% of total agricultural products traded. The sector employs more than 60% of the population in the region.
Local farmers have expressed optimism that the event will be an opportunity to propel them to greater heights.
"The Congress strives to set progressive action for the commercialisation of the industry by exchanging knowledge, best practices and dynamic conversations whilst showcasing leading agri-technology to highlight the right tools for East Africa's agriculture sector," said Robert Mwanje, the Grain Council of Uganda Board Vice Chairman.
Jon McLea, the Director of Agricona, a local agricultural consultancy said country's fertile lands would make the pearl of Africa a hot spot for agribusiness investments.

Why Uganda?
Roodbol explained that Uganda had a favourable trade atmosphere and market access as evidenced through the regional treaties and agreements. It is signatory to major to major international investment protocols and treaties such as the East African Community, the Common Market for Eastern and Southern Africa(COMESA) and Southern African Development Community (SADC).