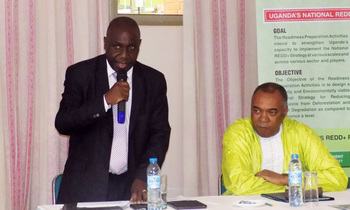 The country director UNDP for Uganda, Almaz Gebru, has said Ugandans have destroyed forests through charcoal burning. "The loss in central forest reserves and other protected areas was at 12% (from 1.47 million hectares to 1.3 million hectares).

While the focus is sometimes on encroachment on central forest reserves, between 1990 and 2005, natural forests outside protected areas reduced by 35% (from 3.46 million hectares in 1990 to 2.3 million hectares in 2005)," Gebru said.

He explained that Uganda's Vision 2040 targets restoration of Uganda's forest cover from 15% to 24% by 2040 while the second National Development Plan (NDPII) targets to increase forest cover from 15% to 18% of the Uganda's land surface by 2021. These, plus the National Forestry and Tree Planting Act (2003) can be good drivers, the challenges of encroachment, capacity of enforcement agencies and corruption notwithstanding.

Gebru was speaking at the national policy dialogue to discuss forest reference emission levels for Uganda's Reducing Emissions from Deforestation and Forest Degradation(REDD+ ) action plan at Imperial Botanical Beach Hotel, Entebbe on October 7, 2016.

Officiating at the opening of the dialogue in a speech read for him by Paul Mafabi director for environment affairs, the minister of water and environment Sam Cheptoris said that according to the Joint Water and Environment Sector Review Report (2016), the major challenge for forest management in Uganda is deforestation which is demonstrated by decline of forest cover from 24% in 1990 to 11% in 2015.

"We need to point out these effects to our families, the citizens and even our Members of Parliament, in a more blatant way. MPs need to issue legislation that protects environment, be resolute on stopping deforestation and purposefully budget for afforestation. We need to halt the high rate of deforestation.
Let's not live a perilous life of "tomorrow will take care of itself." It just doesn't help humanity or the future generations! They will curse us for being selfish!" Cheptoris said.

He said that Uganda has prioritized forest restoration as envisaged in existing targets provided in vision 2040 from the "current 15" per cent of the total land area to 24 per cent.

Subsequently National Development Plans (I & II), and the National Forestry Plan (2011/12-2021/22) looks at forestry as part of the Environment and Natural Resources Sub-Sector - geared towards increasing national forest cover and economic productivity of forests.

Cheptoris said that the Climate Change Policy (2013) provides for sustainable management of forestry resources to provide ecosystems goods and services including mitigating climate change and supporting sustainable development.

"Forestry is crucial to the lives of millions of Ugandans especially the poorest sections of society. The dependence of poor people on forest resources and their ability to improve their livelihoods through forestry has for long not been adequately recognised in Uganda. Benefits of forests and trees to Ugandans especially the poor has mainly focused on the numerous direct benefits in form of food, energy, employment, incomes, quality of life and increased resilience to shocks and stresses" added Cheptoris.