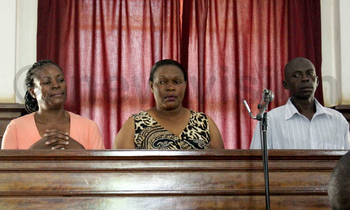 Guilty or innocent will be the verdict today when High Court judge Wilson Musene reads his judgment that will determine the fate of Sarah Nabikolo and her co-accused for the murder of Eriya Bugembe Ssebunya alias Kasiwukira.
The deceased was 51-year-old Nabikolo's husband. They had four children together.
The verdict comes 10 days after assessors, John Musana and Joseph Wasibi in their joint opinion advised court to convict suspects; Nabikolo, her cousin Sandra Nakungu, 36, and Police officer Ashraf Jaden, 40.
In law, a conviction is a formal declaration that someone is guilty of a criminal offense, made by the verdict of a jury or the decision of a judge in a court of law.
Justice Musene, head of the criminal division of the High Court will rule on whether the accused are guilty of the crime. The assessors said prosecution had proved a case against the suspects beyond reasonable doubt.
To prove the case, prosecution presented to court 23 witnesses who testified against the accused.
The accused are battling charges of murder, which attracts a maximum penalty of death on conviction.
They have spent close to two years in detention at Luzira Prison and are being represented by MacDosman Kabega, Nsubuga Mubiru and Ladislaus Rwakafuzi respectively while the state is represented by Principal State Attorney Alice Komuhangi Khaukha and Samali Wakholi.
According to court documents, on October 17, 2014 Kasiwukira was reportedly murdered at about 6am near his home in Muyenga diplomatic zone.
He was knocked down by a speeding car as he jogged in the neighbourhood of Muyenga.