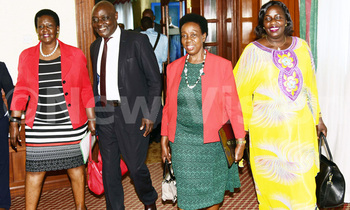 PIC: Left to right: Minster of Trade Amelia Kyambadde, Minister of Agriculture Vincent Sempijja, African Union Commissioner Rhoda Tumusiime and East Africa Community Deputy Secretary General Jessica Eriyo during the opening of the Partnership for Aflatoxins Control in Africa conference at Imperial Resort Hotel Entebbe, October 11, 2016. Photo by Kennedy Oryema

Uganda is hosting the second Partnership for Aflatoxin Control in Africa (PACA) conference expected to generate solutions for the poisonous and cancer-causing chemicals produced by certain molds in food.

Participants at the conference, which is taking place at Imperial Resort Beach Hotel, Entebbe under the auspices of the African Union framework, include agricultural experts from across the African continent.

The AU commissioner for rural economy and agriculture, Rhoda Tumusiime, in her welcome remarks yesterday, said Aflatoxins are so far the most pervasive food security challenge in Africa, causing cancer of the liver and undermining growth in humans and animals.

"Aflatoxins undermine food security, nutrition and limit trade. They hamper agribusiness and economic development," she added.

For the African countries to achieve their development goals and agenda 2063 of AU, mitigation measures and solutions should be developed to combat aflatoxins that undermine the health of the African population and limit access of agricultural products produced on the continent to the international markets.

According to findings of a preliminary study of the impact of the aflatoxins in Uganda, the country loses $37.56m (sh128b) annually in agricultural products contaminated with the poisonous chemicals. The chemicals are also linked to Hepatitis B and failure of the immune systems.

The deputy secretary general of the East African Community, Jessica Eriyo, said the nodding syndrome plaguing northern Uganda could too be linked aflatoxins.
"These are children (in northern Uganda) who have grown up in Internally Displaced People's Camps, surviving on relief food. I think there is need to do deeper investigation to establish the cause of nodding disease," she added.

Trade and agriculture ministers, Amelia Kyambadde and Vincent Ssempijja, called for building of synergies to combat aflatoxins, arguing that the poisonous chemicals have far reaching consequences for trade and public health.

The three-day conference is expected to be opened by President Yoweri Museveni on Wednesday.